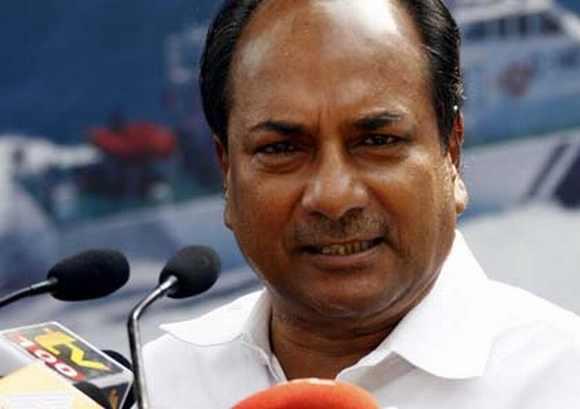 Defence Minister A K Antony has shot down Commerce Ministry's proposal to raise Foreign Direct Investment in defence from 26 per cent to 49 per cent, saying it will be a "retrograde" step and "stymie" the growth of the domestic industry while increasing dependence on foreign manufacturers.
Antony has written a letter to Commerce Minister Anand Sharma, saying the FDI cap could not be raised as the country "cannot afford to be dependent on foreign companies and vulnerable to policies of their countries of origin" in the field of defence on the long-term basis.
"Allowing foreign companies to set up manufacturing/assembly facilities here would be a retrograde step as it will stymie the growth of indigenous design and development, and our dependence on foreign countries and OEMs for modern weapons will get perpetuated," he wrote in the letter.
Antony was responding to Sharma's letter to him last month in which he had proposed the raising of FDI limit in defence sector from 26 per cent to 49 per cent.
"The deliberated view of the Defence Ministry, therefore, remains that the FDI cap in the defence manufacturing sector should remain at 26 per cent," he wrote.
At the same time, the Defence Minister said whenever FDI beyond 26 per cent is likely to result in access to modern and state-of-the-art technology in the country, "decisions can be taken to allow higher FDI on a case to case basis by the Cabinet committee on security."
To justify his opposition to the hike in FDI cap in defence sector, Antony said, "Building up our own indigenous capabilities for designing and developing weapon systems is vital.
"Our effort is to build up indigenous capability in this field by encouraging the involvement of the private sector in defence. We are importing weapon systems for our immediate requirements, till we develop our own systems," he said.