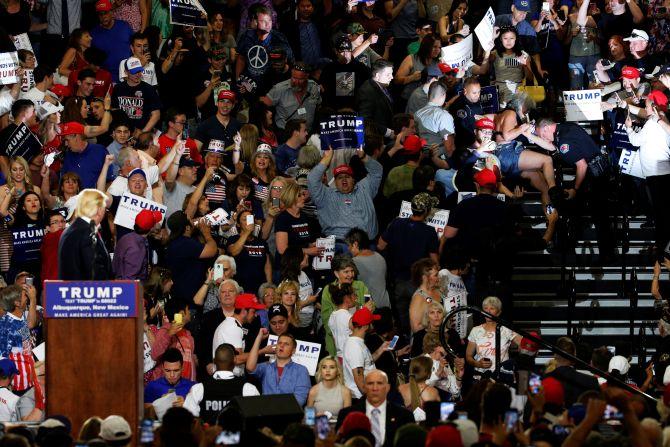 IMAGE: Republican U.S. presidential candidate Donald Trump (bottom L) watches as police remove protester (R) as he holds a rally with supporters in Albuquerque, New Mexico, US. Photograph: Jonathan Ernst/Reuters
Donald Trump's rally in New Mexico turned violent as protesters toppled barricades and threw rocks, burning t-shirts and plastic bottles at police officers, injuring several, the latest scuffle to hit the presumptive Republican presidential nominee's campaign.
The "unlawful assembly" went on rampage on Tuesday night, lit fires and threw rocks at the police and their horses outside the Albuquerque Convention Center in New Mexico.
The police responded by firing pepper spray and smoke grenades into the violent crowd which overturned barricades.
The real estate tycoon's speech was interrupted repeatedly by protesters who held up banners with the messages "Trump is Fascist" and "We've heard enough."
Most of the protesters were escorted out one by one. A female protester was physically dragged from the stands by security.
"Go ahead, get them out of here," Trump told one of them.
However, the police had a tough time in controlling the demonstrators who were protesting against the policies and rhetorics of Trump.
"This is an unlawful assembly," Albuquerque police spokesman Simon Drobik told protesters over a loudspeaker.
Albuquerque police said several officers were treated for injuries after getting hit by rocks thrown by protesters.
According to Albuquerque Journal, a group of about 100 protesters forced their way through a police barricade and tried to storm the convention centre minutes after Trump took the stage for his rally. The police were in anti-riot gears.
At least one person was arrested from the riot, the police said.
In a series of tweets, Albuquerque said the protesters threw bottles and rocks at the police horses.
"There is no confirmation that any gunshots were fired, contrary to reports. Possible damage to Convention Centre Windows by pellet gun. The smoke that has been seen is not tear gas, it is just smoke. We have not deployed tear gas at this time," he tweeted.
While protests have not been a new phenomenon to Trump rallies, this is the first after he earned the Republican party's presidential nomination early this month.
Last month in California, pro and anti-Trump protesters clashed with each other outside a city council meeting while in New York, a protester at a rally was shoved in the face twice by a Trump supporter.