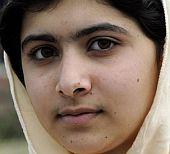 Malala Yousafzai, the Pakistani teenage activist, who was shot in the head by Taliban for advocating girls' education, has been discharged from a British hospital treating her, the hospital said on Friday.
Queen Elizabeth Hospital in Birmingham, said 15-year-old Malala would continue her rehabilitation at her family's temporary English home before undergoing major reconstructive surgery in a few weeks.
Malala was shot in Pakistan's conservative Swat Valley on October 9 and air-dashed to the Queen Elizabeth Hospital on October 15 for further specialist treatment. She received bullet wounds just above her left eye.
"Malala Yousufzai was discharged from Queen Elizabeth Hospital Birmingham as an inpatient on Thursday to continue her rehabilitation at her family's temporary home in the West Midlands," the hospital said in a statement.
She "is well enough to be treated by the hospital as an outpatient for the next few weeks," it said.
She is still due to be re-admitted in late January or early February to undergo cranial reconstructive surgery as part of her long-term recovery and in the meantime she will visit the hospital regularly to attend clinical appointments.

Dr Dave Rosser, Medical Director at University Hospitals Birmingham NHS Foundation Trust, said: "Malala is a strong young woman and has worked hard with the people caring for her to make excellent progress in her recovery.

"Following discussions with Malala and her medical team, we decided that she would benefit from being at home with her parents and two brothers.
"She will return to the hospital as an outpatient and our Therapies team will continue to work with her at home to supervise her onward care," Rosser said.

The statement also said that over the past couple of weeks Malala has been leaving the hospital on a regular basis on "home leave" to spend time with her father Ziauddin, mother Toorpekai and younger brothers, Khushal and Atul.

During those visits assessments have been carried out by her medical team to ensure she can continue to make good progress outside the hospital.
A number of QEHB's multi-specialist doctors have been working alongside colleagues from Birmingham Children's Hospital to treat her. The medical team included clinicians from Neurosurgery, Imaging, Trauma and Therapies, the QEHB statement said.
Meanwhile, Malala is now likely to secure permanent residence in the UK after her father was granted a job with the Pakistani consulate in Birmingham.
Ziauddin Yousafzai has been appointed education attaché for three years, with the option of an extension for a further two years afterwards.
Both he and his daughter have had threats made against their lives by the Taliban, since the shooting.

Malala's case won worldwide recognition for the struggle for women's rights in Pakistan.

Time magazine had shortlisted her for its Person of the Year in 2012.