Tamil Nadu Governor R N Ravi stoked a fresh controversy on Thursday, remarking that the anti-Sterlite protests in the state in 2018 had been fuelled by foreign funds and was aimed at hindering progress. His comment instantaneously drew an outcry from the ruling Dravida Munnetra Kazhagam and its allies.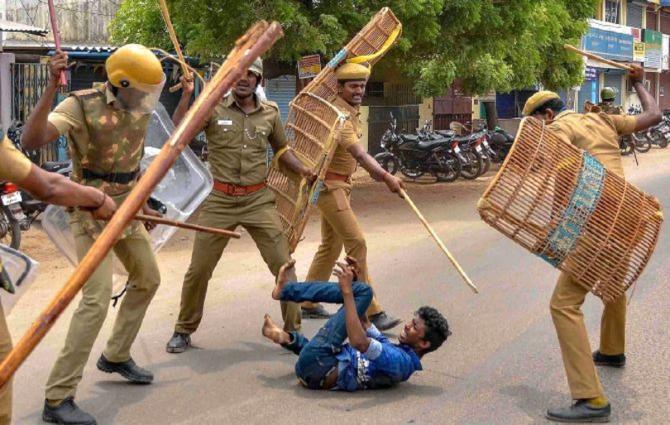 Governor Ravi claimed that donors sitting in foreign countries had sent money here for activities that were "anti-national" in nature.
"Take the case of Sterlite's Copper Smelter plant in Thoothukudi. It was a clear case of foreign funds, which led to protests and firing that cost innocent lives. That is the saddest part of it," Ravi said.
The governor was referring to the protests of May 22 and 23, 2018, in Thoothukudi town against the proposed expansion of a copper smelter plant run by Sterlite Corporation, over claims that the factory caused air, water and soil pollution that affected the health of local residents. The police opened fire on the protesters, killing 13 people and injuring 102.
"They wanted Sterlite to be closed because it met 40 per cent of our copper needs," the governor said during his interaction with civil service aspirants for the 'Think to Dare' series, at Raj Bhavan in Chennai.
Copper, he said, was important for the electronics industry and unfortunately the plant was closed. "Those behind the protest were receiving FCRA (foreign contributions). We need to be strict with the Act.... Of course people have freedom and the constitutional right to protest but government has to ensure that our national interests are protected and nothing inhibits or retards our growth," he said.
Replying to a question on tightening the Foreign Contribution (Regulation) Act (FCRA), the governor said the government realised that a number of NGOs were receiving grants as regular remittances from donors sitting in foreign countries "for activities prejudicial or anti-national" in nature.
"For example, in Tamil Nadu we have a nuclear plant. There was protest in the name of climate and safety whenever work was started," he said, and added, "Take the case of Sterlite in Thoothukudi. It was purely foreign-funded."
Ravi argued that foreign money should not be used for purposes that are harmful to our national interest. He alleged that an organisation in Bengaluru that received money was creating hurdles for national projects. Even the port-to-land connectivity was opposed on the grounds that it affected the livelihood of fishermen and marine life, he added.
On the governor's role and responsibilities, especially in the context of when he is opposed for political reasons, Ravi replied that his duty was to protect the Constitution.
On the assembly bills forwarded to him for presidential assent, he said, "The governor has three options: give assent, withhold -- meaning the bill is dead, which the Supreme Court and Constitution use as decent language to mean reject -- and third. reserve the bill for the President. This is the governor's discretion."
Reacting to a range of issues, Ravi, who had been former governor of Nagaland and Meghalaya, accused China of creating trouble as its whole plan was to break off the Northeast from India.
"We cannot have a relationship with a country which suppresses democracy.... Our foreign policy is multi-allied for mutual benefit and very pragmatic, as its core is national interest and basically no war with anyone," said Ravi, who assumed charge as governor of Tamil Nadu about one-and-a-half years ago.
Ravi, who is a former Kerala cadre IPS officer who had had served at the Centre with the Central Bureau of Investigation and Intelligence Bureau, said, "This is the first time that I have come to an area (Tamil Nadu) which is peaceful, where people are cultured."
Reacting to the governor's comments about the anti-Sterlite protests, DMK's deputy general secretary and MP Kanimozhi condemned Ravi for "defaming the people's struggle against Sterlite". She demanded that the governor provide evidence to substantiate his claims on Sterlite.
Marumalarchi Dravida Munnetra Kazhagam (MDMK) chief Vaiko, an ally of the ruling DMK, dismissed Ravi's comment on Sterlite as the "height of arrogance."