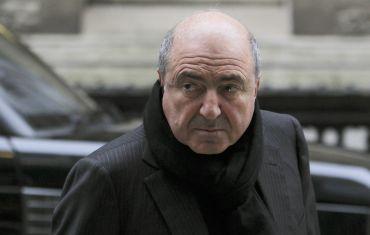 Boris Berezovsky, a self-exiled Russian tycoon and a staunch critic of President Vladimir Putin, has been found dead in mysterious circumstances in southeast England.
Berezovsky, 67, was found dead yesterday and police are currently treating his death as unexplained.
His body was reportedly found in a bathroom.
Police are searching his London-area home for possible chemical, radiological or biological evidence.
"Thames Valley Police's Scenes of Crimes Officers are now carrying out a full and thorough investigation at the property to determine the circumstances surrounding the man's death," police said in a statement.
Speculation over Berezovsky's cause of death ran the gamut from suicide to heart attack.
"Initial suggestions that Berezovsky may have committed suicide were quickly quashed by his close associates," Russia's state-owned RIA Novosti news agency reported.
The agency said a family friend told Russian media that Berezovsky had suffered a heart attack.
Berezovsky emigrated to the UK in 2000 after falling out with Putin.
The business tycoon amassed a fortune in the 1990s after the privatisation of state assets following the collapse of Soviet Communism.
He survived numerous assassination attempts, including a bomb that decapitated his chauffeur.
In 2003 he won political asylum to stay in Britain on the grounds that his life would be in danger in Russia.
The tycoon's wealth is thought to have considerably diminished in recent years, leaving him struggling to pay debts in the wake of costly court cases.
In 2011, Berezovsky reportedly lost more than 100 million pounds in a divorce settlement. And, last year, he lost a 3 billion ($4.7 billion) damages claim against Chelsea Football Club owner Roman Abramovich.
He had blamed Kremlin for the death of Alexander Litvinenko, a former Russian spy who was poisoned by radioactive material.
Berezovsky was a close friend of Litvinenko, a Russian emigre and former KGB officer Alexander Litvinenko, who died in 2006 after he was poisoned with the radioactive material polonium-210 while drinking tea at a London meeting.
Image: Boris Berezovsky | Photograph: Reuters