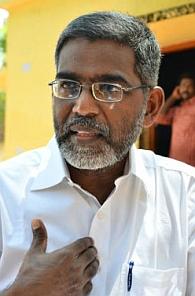 Anti-nuclear activist S P Udayakumar has sent a legal notice to the Union home ministry seeking action against an official for allegedly defaming him by "leaking" a secret report recently.
In the notice sent to the home secretary, counsel for Udayakumar said a joint director in the Intelligence Bureau had "imputed his client" which was "utter falsehood".

'If anything happens to me, IB and government are responsible'
Also, the report had deliberately been leaked to the media to harm the reputation of Udayakumar, leader of Peoples Movement Against Nuclear Energy, who conducted agitation against the Kudankulam Nuclear Power Project for several years, and has made "defamatory allegations against him."
If departmental action was not initiated against the official within seven days of receipt of the notice, the counsel said his client would be constrained to move Madras high court for appropriate action.
The Intelligence Bureau under the home ministry had allegedly sent a report purporting an "intricate network" of NGOs aimed at "taking down" the country's nuclear power programmes.
Udayakumar had unsuccessfully fought the Lok Sabha elections from Kanyakumari seat on an Aam Aadmi Party ticket. A

Image: Anti-nuclear activist S P Udayakumar