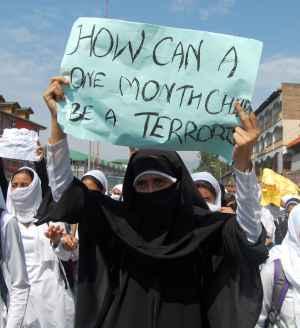 Widespread anti-Israel protests rocked Kashmir Valley on Monday with students boycotting classes and condemning the continued airstrikes in Gaza strip.
Since early Monday morning students of various colleges and schools boycotted classes in capital Srinagar and other towns and later held protests.
Hundreds of students including girls marched on the city thoroughfares carrying placards which read 'down with Israel'.
Shouting anti-Israeli slogans, the students marched towards the city centre Lal Chowk which led to traffic jams.
Authorities had made elaborate security arrangements to check the protests in the entire summer capital.
Reports from other towns said students in north and south Kashmir held protests against killing of civilians including women and children in the continued airstrikes on Gaza.
State government employees also held a protest in the city centre on Monday morning.
The state government has advanced the summer break and ordered closure of all the educational institutions in the Valley from Tuesday following the protests.
Image: A student in Srinagar holds a placard during a protest against Israeli airstrikes in Gaza
Photo: Umar Ganie