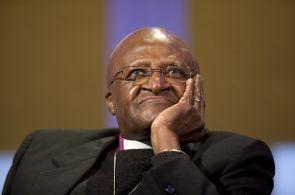 South Africa's revered anti-apartheid icon Desmond Tutu was admitted to a Cape Town hospital Wednesday for treatment of a persistent infection.
"Archbishop Emeritus Desmond Tutu has checked into a Cape Town hospital for the treatment of a persistent infection and to undergo tests to discover the underlying cause," the Desmond and Leah Tutu Legacy Foundation said in a statement.
"The nonsurgical treatment is expected to take five days," the statement said.
The workaholic 81-year-old spent the morning in his office before being admitted to the hospital.
"He was in good spirits and full of praise for the care he receives from an exceptional team of doctors," it said.
The Nobel peace laureate was diagnosed with prostate cancer in 1997.
Tutu became the most vocal opponent of apartheid in the 1980's while he was the archbishop of Cape Town.
After the first democratic elections, President Nelson Mandela appointed him to head up the Truth and Reconciliation, where he was shown on television worldwide crying uncontrollably as the horrible stories of apartheid-era cruelty were told by those seeking amnesty.
Earlier this month, Tutu was awarded the $1.7 million Templeton Prize in the UK for his lifelong work to promote love and forgiveness, following in the footsteps of previous awardees the Dalai Lama and Mother Teresa.
At a reception after the award, the usually outspoken Tutu again decried the current state of South Africa as "one of the world's most violent and unequal societies", as he called on his countrymen to revert to "the flavour of the month" status that South Africa had when the first democratic elections took place in 1994.
He served as archbishop of Cape Town from 1986 until his retirement in 1996. He retired from public life in 2011.
Photograph: Reuters