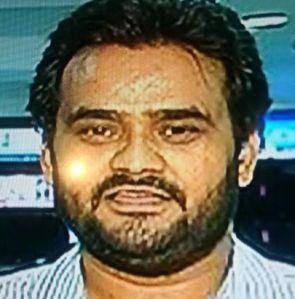 The Vyapam scam turned murkier on Saturday with an investigative journalist working for a leading Delhi-based news channel dying under mysterious circumstances soon after he interviewed parents of a girl who was found dead after her name figured in the massive admission and recruitment scandal.
Minutes after the interview, 38-year-old Akshay Singh started frothing at the mouth. He was rushed to civil hospital and later to a private hospital, but doctors failed to revive him. From there he was taken to another hospital in nearby Dahod in Gujarat, where he was declared brought dead.
An official said late on Saturday night that a panel of three doctors were conducting post mortem in Dahod.
Akshay, who worked for TV Today group, had on Saturday called on the parents of Namrata Damor, whose body had been found under near railway tracks in Ujjain district on January 7, 2012.
The incident took place in Meghnagar near Jhabua town.
Namrata's father Mehtab Singh Damor said Akshay and two others visited their house in the afternoon. After the interview was over, one of them was sent to get certain papers photocopied.
As Akshay was waiting outside Damor's house, he suddenly started frothing at the mouth and collapsed, he said.
Jhabua district's Superintendent of Police Abid Khan confirmed that a person named Akshay Singh had died in Meghnagar.
At least 25 accused/witnesses have died so far in Vyapam scam, a massive admission and recruitment racket involving several bureaucrats and politicians, and the opposition Congress has been demanding a Central Bureau of Investigation probe into the matter.
Some reports have claimed that 44 people associated with the scam have died so far.
The most high-profile death was that of Shailesh Yadav, son of Madhya Pradesh Governor Ram Naresh Yadav. Shailesh, 50, was found dead at his father's residence in Mall Avenue area of Lucknow on March 25 this year.
Ram Naresh Yadav, also a former chief minister of Uttar Pradesh, was himself made an accused in the scam before getting relief from court.
Meanwhile, Madhya Pradesh Home Minister Babulal Gaur said the decision as to whether further probe was necessary into Akshay's death would be taken only after getting the autopsy report.
"Let the post-mortem report come first. Then we will decide on probing the issue further," said Gaur.
About the significant number of deaths of accused and witnesses in the Vyapam scam, he said the matter was before the court and also under investigation.
Image: Akshay Singh was meeting the parents of a girl who had been found dead near railway tracks after her name figured in the infamous Vyapam scam.