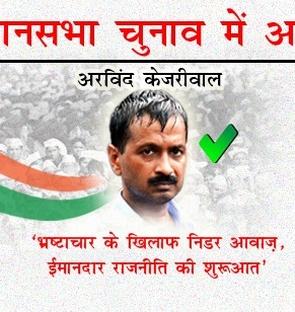 The Election Commission on Wednesday issued a notice to Aam Aadmi Party convener Arvind Kejriwal for the alleged violation of the Model Code of Conduct for making an appeal on grounds of religion to Muslim voters to support his party in the upcoming Delhi assembly polls.
The EC has given Kejriwal time till 11 am on November 25 to file a reply as to why action should not be initiated against him for prima facie violation of the Model Code, which prohibits appeals to voters on grounds of religion.
"The Commission has prima facie observed that by distributing the pamphlet (seeking Muslim votes), you have violated the provisions of the Model Code of Conduct. You are hereby called upon to explain by 11 am on November 25 as to why action should not be initiated against you for the said violation," the notice states.
In case Kejriwal fails to submit his reply by the said deadline, appropriate action would be initiated against him without any further notice on the assumption that he has nothing to say, the EC added.
The notice follows a complaint filed by Harish Khurana, son of former Delhi chief minister Madan Lal Khurana, who objected to pamphlets being distributed by Kejriwal containing appeals to Muslim voters to seek their backing.
The pamphlet, whose objectionable parts the EC has reproduced in its notice, purportedly has the AAP stating, "Delhi's Muslims should support the Aam Aadmi Party in the forthcoming polls.
"We (AAP) are not seeking votes for power or money but for rooting out corruption from the system and building a corruption-free India where people belonging to all religions can live in peace," the pamphlet states.
Kejriwal further appeals in the pamphlet, "The BJP is a communal party. Till now the Muslims did not have any alternative, but now they have an honest alternative in the form of AAP. We appeal to the Muslim voters of Delhi to back our endeavours for clean politics and not fall into the trap in which they have been falling for the past 65 years".
The Model Code prohibits any such appeal before an election which invokes religion or caste.
Sub para 3 of Para 1 of the Code states, "There shall be no appeal to caste or communal feelings for securing votes. Mosques, churches, temples or other places of worship shall not be used as a forum for election propaganda."
Image Courtesy: https://www.facebook.com/AamAadmiParty