A new picture of Amritpal Singh with his key aide Papalpreet Singh surfaced Monday on social media as another close associate of the radical preacher was detained under the stringent National Security Act.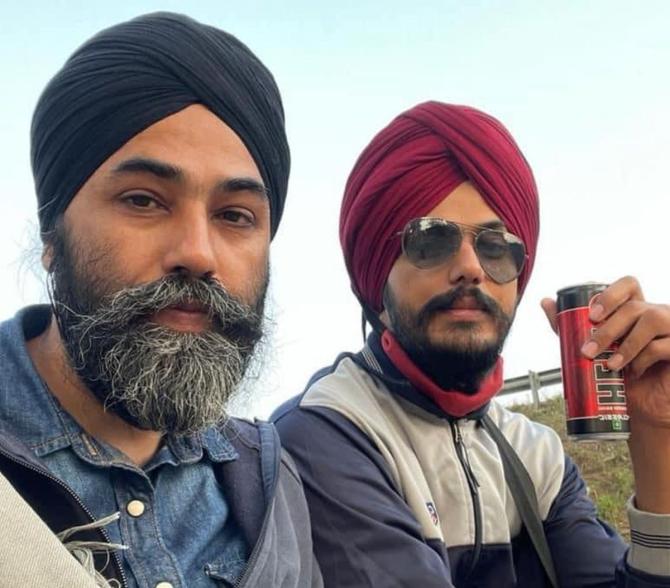 Amritpal Singh has remained untraceable since a police crackdown against him and members of his Waris Punjab De' began in Punjab on March 18.
Officials said the picture was taken a day after the police operation against the Khalistan sympathiser began. Both men looked relaxed; Amritpal Singh is seen holding a beverage can.
In another development, Amritpal's Singh's close associate Varinder Singh alias Fauji was nabbed by the Amritsar Rural police.
He was part of the private security set for the preacher, police said.
A senior police official said the NSA has been invoked against Varinder Singh and he was being sent to the Dibrugarh Jail in Assam, where some alleged Amritpal Singh associates are already being held under the NSA.
Papalpreet Singh, who appears in the picture, is said to be Amritpal Singh's mentor. He was allegedly in contact with Pakistan's spy agency Inter-Services Intelligence (ISI).
In the photo, Amritpal Singh is seen wearing a jacket, a maroon turban and sunglasses. His companion, sitting beside him, is in a sweatshirt.
The police operation began about three weeks after Amritpal Singh and his supporters stormed into the Ajnala police station near Amritsar to secure the release of an arrested man. Six police personnel were injured.
Amritpal Singh and Papalpreet Singh were allegedly harboured by a woman at her home in Shahabad in Haryana's Kurukshetra district on March 19, police had earlier said.
On March 25, CCTV footage emerged purportedly showing Amritpal Singh talking on a mobile phone.
The preacher escaped the police dragnet in Jalandhar district on March 18, switching vehicles and changing appearances.
He and his associates have been booked under several criminal cases related to spreading disharmony among classes, attempt to murder, attack on police personnel and creating obstructions in the lawful discharge of duty by public servants.
The Punjab Police on Sunday said it has released 197 people out of 353 till then taken into preventive custody on apprehension of breach of peace and disturbance of law and order.
*****
Amritpal aide brought to Dibrugarh jail
One more associate of radical preacher Amritpal Singh was brought to Assam on Monday and lodged at the Dibrugarh Central Jail where seven others like him are already there, an official said.
Varinder Singh, suspected to be the bodyguard of the fugitive Amritpal, was arrested a few days ago in Punjab.
He was brought to Dibrugarh by air and escorted to the jail amid tight security led by the Superintendent of Police Shwetank Mishra, the official said.
A multi-tier security arrangement has been made at the jail since March 19, when four members of the Waris Punjab De (WPD) were taken here in the first batch.
© Copyright 2023 PTI. All rights reserved. Republication or redistribution of PTI content, including by framing or similar means, is expressly prohibited without the prior written consent.