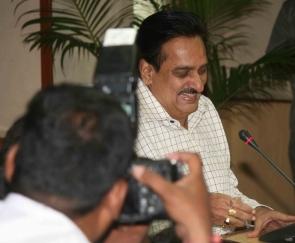 Andhra Pradesh Director General of Police V Dinesh Reddy, against whom the Supreme Court has ordered a Central Bureau of Investigation probe in regards to his alleged assets, has said that the assets under investigation have nothing to do with him or his family.
In a two-page clarification, in response to the media reports about the CBI probe, Reddy said that "pseudonymous petition", which triggered off the whole process was written before he became the DGP in June 2011 and was aimed at scuttling chances of his appointment.
The DGP said that the petition had contained 542 registered sale deeds pertaining to 1,500 acres of land belonging to various others who were in no way connected to him "These 542 registered sale deeds also include sale deeds of seven and a half acres belonging to us," he said. "Some of these documents belong to one Mrs S Nalini W/o Mr S V Rao whom the author of this petition calls my sister-in-law which is totally false."
"In this petition except simply enclosing these 542 registered sale deeds no where it is mentioned how they are connected to me," he said.
In a detailed backgrounder to this entire episode he recalled that the 800-odd pages long pseudonymous petition was purportedly written by All India Banjara Samiti but a subsequent investigation by the state CID found that the letter was forged by another IPS officer Umesh Kumar.
He pointed out that as signature of a MP M A Khan was forged, a case was registered in Parliament Street Police Station. He also recalled that Umesh Kumar and a few others were chargesheeted in the case and trial was on in the court of the chief metropolitan magistrate, Hyderabad.
Dinesh Reddy said that he had to come out with the clarification as the news reports of the CBI inquiry were raising a lot of doubts and confusion among the public and rank and file of the police department about the head of the police force. "It is my duty to clarify and clear the doubts in public and departmental interests as the DGP of the state is an important functionary in whom lies lot of responsibility for the cause of public service."
Dinesh Reddy also pointed out that while ordering the inquiry the court also mentioned, "This should not be considered as expressing any opinion upon the merits of the case".
Meanwhile the DGP remains locked in a tussle with the media, especially The Hindu newspaper over the reports about his visit to a dubious 'godman' in Hyderabad.

Image: Andhra Director General of Police V Dinesh Reddy

Photograph: SnapsIndia