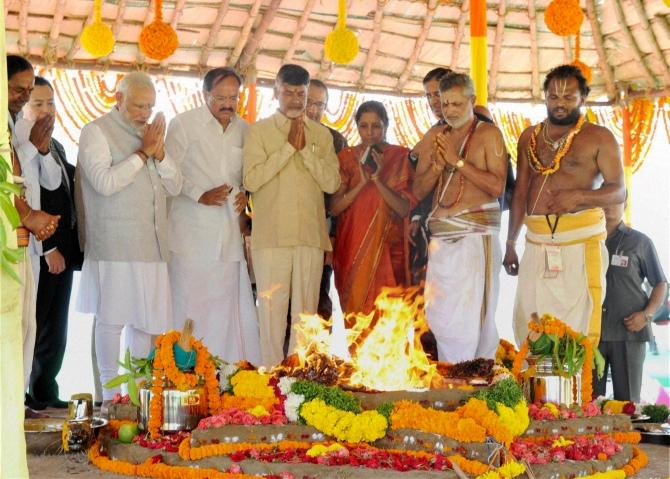 Prime Minister Narendra Modi performing the Pooja rituals at the foundation stone laying ceremony of 'Amaravathi'- the new capital of Andhra Pradesh on Thursday. Union Minister for Urban Development, Housing and Urban Poverty Alleviation and Parliamentary Affairs, M Venkaiah Naidu, Chief Minister of Andhra Pradesh, N Chandrababu Naidu and other dignitaries are also seen. All photographs: PTI
Political selfishness led to the hasty division of Andhra Pradesh, Prime Minister Narendra Modi said on Thursday accusing the Congress of "spreading poison", instigating youth and creating tension between AP and Telegana.
Laying the foundation stone for the new capital, the prime minister exhorted people of both the states not to fall prey to lies and disinformation that could fuel tension between Andhra and Telangana.
"For some people's political selfishness, Andhra Pradesh was bifurcated in haste without properly carrying out the process of proper consultation. I can even today feel the pain of those innocents who lost their lives and suffered loss to property in this episode.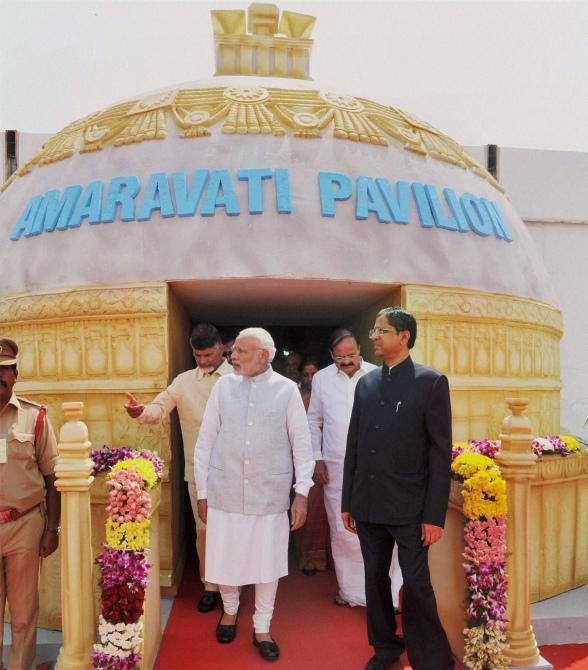 Prime Minister Narendra Modi arrives at Amaravathi Pavilion to attend Foundation Stone ceremony of 'Amaravathi', the new capital of Andhra Pradesh.
"The British left behind such things due to which there is tension in the country even today. The previous government did something that due to which everyday there is tension created," he said addressing a gathering here.
The prime minister assured the people that Andhra Pradesh Reorganisation Act will be implmented in 'letter and spirit' within the stipulated timeframe. Modi accused the previous Congress-led United Progressive Alliance government of trying to sow the seeds of permanent problem between the two states and urged the people to move forward in the "true spirit and soul of Telugu".
"Those people who while bifurcating Andhra and Telangana have attempted to sow the seeds of a permanent problem, they are even today adding fertiliser to create poison, create illusion and are trying to play with the emotions of the youth," he warned.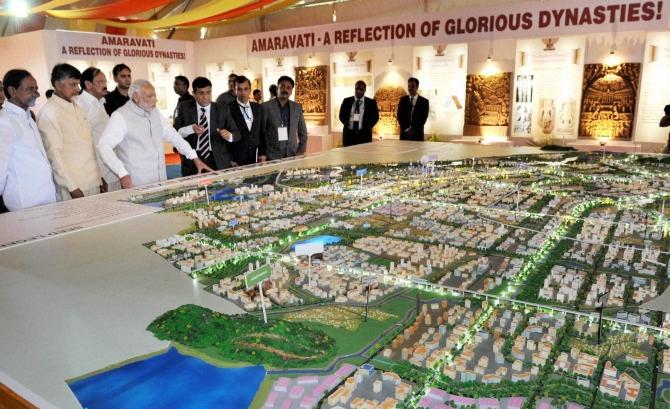 Prime Minister Narendra Modi is being briefed about 'Layout Plan of Amaravathi City'. Chief Minister of Andhra Pradesh, N. Chandrababu Naidu is also seen.
He recited a Telugu poem at the foundation laying of the new capital.
Citing the example of creation of three new states --- Uttarkhand, Jharkhand and Chattisgarh -- during Atal Bihari Vajpayee's tenure where there was no conflict, Modi said he was attempting to do the same now so that there is no problem or bloodshed between the people of the two states.
"The previous government has done a lot of such things that a lot of time and energy of this government is going into undoing and setting them right. But I assure Centre's support to both the states and the Government of India will always stand by and support you," he said.
The prime minister said he alongwith Chief Minister Chandrababu Naidu will fulfill the dreams and aspirations of Andhra Pradesh and take it to greater heights by expediting the development process.
"I want to assure the people of Andhra that Government of India will implement the provisions of the Reorganisation Act in letter and spirit. I have come here to assure you that the Narendra Modi and Chandrababu Naidu duo will fulfil all the dreams and aspirations and the issues agreed upon within the stipulated time frame," he said.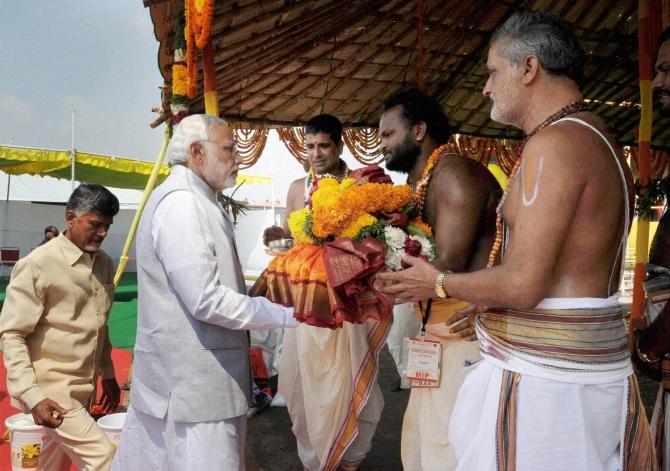 Prime Minister Narendra Modi performing the Pooja rituals at the foundation stone laying ceremony of 'Amaravathi'. Chief Minister of Andhra Pradesh, N Chandrababu Naidu is also seen.
Modi, who had brought water from the Yamuna River and soil from Parliament Complex, to be spread in the new capital, said, "This symbol has a message and strength that Delhi will always stand and move shoulder to shoulder in Andhra's journey to touch newer heights."
He said Centre has taken a series of steps in development of human resources in the state with emphasis on the Indian Institute of Technology, the Indian Institute of Management, the Indian Institute of Information Technology, the All India Institute Of Medical Science, National Institutes of Technology, Indian Institute of Science, education and research, Central and PetroluemUniversity. Modi said the talent and brilliance of both the states have the potential to turn them into centres of innovation.
"Be it Andhra Pradesh and Telangana, their soul is Telugu. they are its wings and development and fast progress of both will help enhance the country's image. This land has the biggest potential to benefit from Government of India's Start-Up Initiative. Lakhs of youth in Andhra have made their place in the world as professionals.
"Andhra Pradesh which has such talented and brilliant youth can set up an entire kingdom of innovation and Start-up in this land. I am confident that in coming days Andhra Pradesh will lead a new economic revolution in the country which will be known as youth centric economic revolution.
Recalling the rebuilding of towns and villages in quake-hit Gujarat, Modi said to undertake such a task requires political will, support of the people and clear vision. He said building of the new capital should be looked at as an opportunity rather than an impediment to make it a centre of economic activity and development.
© Copyright 2021 PTI. All rights reserved. Republication or redistribution of PTI content, including by framing or similar means, is expressly prohibited without the prior written consent.