Till December 2015, the prime minister has flown abroad 19 times, but the bills have been processed only for 2014 till now, reports Nivedita Mookerji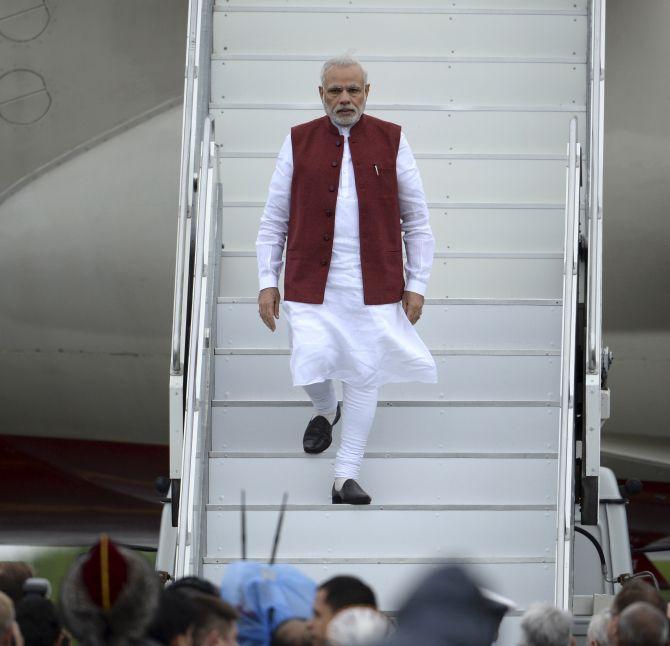 The frequent and frequently discussed foreign trips of Prime Minister Narendra Modi have chalked up a bill of Rs 77 crore for chartered flights in the first six months of his tenure, according to data from his office.
Modi took charge as prime minister on May 26, 2014. According to data from the Prime Minister's Office, this is the amount spent on five international trips between June 15 and November 20 (see chart). He also went twice to Nepal, but flew in Indian Air Force aircraft. The expenditure for these trips has not been revealed. Till December 2015, Modi has flown abroad 19 times, but the bills have been processed only for 2014 till now.

Compared with his predecessor, Manmohan Singh, Modi's most expensive trip -- to Myanmar, Australia and Fiji in November 2014 -- was comparatively less costly at
Rs 22.5 crore.

Singh's trip to Brazil and Mexico in June 2012 for eight days had chalked up a flight bill of Rs 26.94 crore. Also, the current PM's chartered flight for a seven-day trip to the US in September 2014, where he had wooed the crowds at Madison Square in New York, had cost Rs 19 crore -- less than Singh's trip for as many days to the US in September 2013, the bill for which was Rs 23.37 crore. However, when the figures are compared for expenses on flights abroad, Modi comes out on the top.

In his first six months, Singh flew out four times but spent only Rs 30.45 crore. One must, of course, consider the fact that expenses between 2004 (when Singh took office) and 2014 are not comparable.
Over his 10-year tenure, Singh travelled to foreign countries 73 times, incurring an expenditure of Rs 794.84 crore on chartered flights -- about Rs 79.4 crore a year.
Modi's predecessor from his own Bharatiya Janata Party, Atal Bihari Vajpayee, travelled abroad only 19 times during his five years in office (January 1999 to May 2004). The current PM has already had as many trips in less than two years.
Image: Indian Prime Minister Narendra Modi disembarks a plane upon his arrival in Russia. Photograph: Reuters