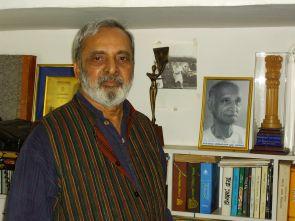 Well-known Kannada author U R Ananthamurthy, the only Indian to be shortlisted for the Man Booker International Prize 2013, on Wednesday lost the prestigious award to American writer Lydia Davis.
The New York based writer-translator Davis bagged the 60,000 pound prize for her "innovative and influential" writing, which includes works such as 'The End of the Story'and 'Varieties of Disturbance'.
"Lydia Davis' writings fling their lithe arms wide to embrace many a kind... There is vigilance to her stories, and great imaginative attention. Vigilance as how to realise things down to the very word or syllable; vigilance as to everybody's impure motives and illusions of feeling," Sir Christopher Ricks, literary critic and chair of the judging panel, said in reference to this year's winner.
In seeking out literary excellence, the judges consider a writer's body of work rather than a single novel.
Unlike the annual Booker, the international prize recognises one writer for his or her achievement in fiction and is awarded every two years to a living author who has published fiction either originally in English or whose work is available in translation in the English language.
"My selection in the list of finalists is a triumph of the Kannada language, which is being represented on the global stage today alongside other world languages. As a writer, I am just one among many writing in their mother-tongues in India. I am here on their behalf," Ananthamurthy told PTI.
The 80-year-old flew down from Bangalore despite his ill health to attend the first-ever awards ceremony for the prize at Victoria and AlbertMuseum in London Wednesday.
"I have to be dialysed four times a day for my kidneys and my health is not very good but when I saw the list, I felt I must come to represent all my fellow authors from India. It has been a very exciting experience. I hope this award arouses the curiosity of readers around the world and creates an awareness about spaces unfamiliar to many," added the author best known for his novels 'Samskara' and 'Bharatiputra'.
Ananthamurthy is considered a leading representative of the 'navya' or new movement in the literature of the Kannada language.
A recipient of the Padma Bhushan and Jnanpith Award, Ananthamurthy was praised by the Booker judging panel for the humanity of his works, which question cultural norms.
Image: U R Ananthamurthy
Photograph courtesy: Wikimedia Commons