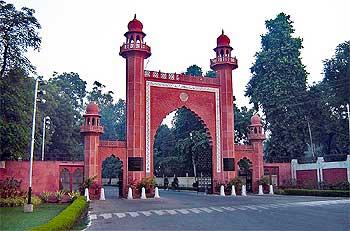 A letter war has broken out between the Vice Chancellor of Aligarh Muslim University and local Bharatiya Janata Party member of Parliament Satish Gautam who wrote to the former charging him with "issuing inflammatory statements" over its minority status "to create disturbances in the University".
Hitting back at the MP, Lt Gen (retd) Zameer Uddin Shah on Sunday asked him not to question his secular credentials by trying to project Shah as a "religious fundamentalist" and urged him to help maintain peace and tranquillity in the city.
Gautam had written a letter to Shah on July 13 accusing him of trying to instigate students by issuing a statement in which he said that he forsees "trouble" if AMU is denied its minority tag.
He also accused the VC of "not believing in the constitutional framework of India".
In his letter Shah said, "It is totally wrong to say that I do not believe in the constitutional framework of India or have anyway questioned the Apex Court of the country".
Shah said that the MP should appreciate the fact that when several universities witnessed 'violent' student protests in recent past, AMU students did not do anything which could disturb the peace and the secular fabric of the country.
"I have imbibed modern and moderate values in my 40 years of service in Indian Army and I am determined to uphold the secular values which AMU represents to the world," he said.
Shah said if the MP had certain doubts about his statement, he should have raised the matter directly with him instead of writing a letter and making it public even before it was received by him.