All India Anna Dravida Munnetra Kazagham supremo Jayalalithaa will be sworn in for the fifth time as Tamil Nadu chief minister on Saturday along with 28 ministers, nearly eight months after she was forced to quit over corruption charges.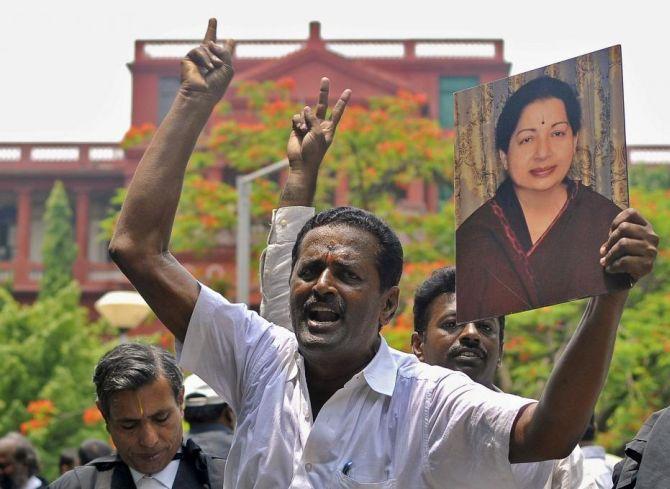 An Amma supporter is jubilant after she was let off by the Karnataka HC, paving her way back to power. Photograph: Reuters
On a day of fast paced developments, 67-year-old Jayalalithaa was elected as legislature party leader at a meeting of party MLAs, 11 days after she was acquitted by the Karnataka high court in a disproportionate assets case.
The swearing-in ceremony will take place at 11 am at the Madras University Centenary Auditorium. As many as 28 others will be sworn in as ministers along with her.
Jayalalithaa has retained old faces when she was chief minister during 2011-14. This includes her trusted aide O Panneerselvam as minister of finance, Natham R Viswanathan as electricity minister and R Vaithilingam as housing minister, Edappadi K Palaniswami and P Mohan.
The three held the same portfolios in the outgoing Panneerselvam cabinet.
Barring three, including MSM Anandan who was the forest minister in Panneerselvam Cabinet, all others figure in the official list of ministers released by Raj Bhavan.
P Chendur Pandian, who is ill and designated minister without portfolio in the Panneerselvam Cabinet, and Agri Krishnamurthy who was arrested over the suicide of an official are the two others who have been omitted.
Including Jayalalithaa, who will hold the portfolios of home, police, public, all India services, general administration and district revenue officers, a total of 29 will be sworn in on Saturday by Governor K Rosaiah.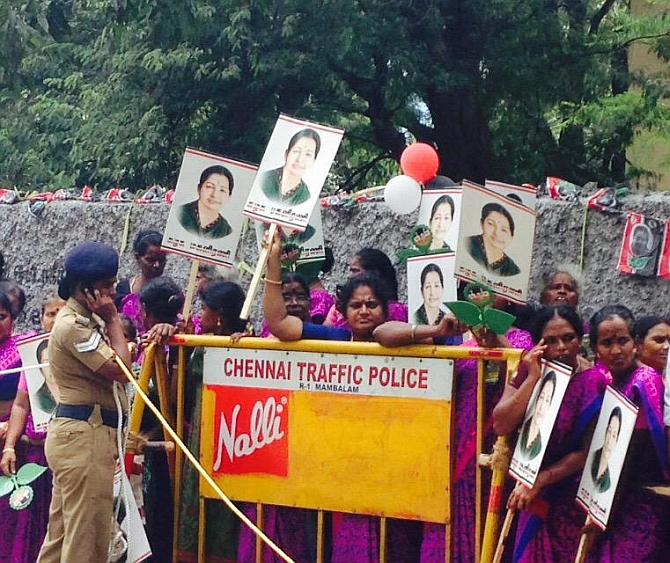 A woman police official stands guard as Jayalalithaa supporters stand and wait to catch a glimpse of their 'Amma.'
"The Governor has today approved the recommendation made by Selvi J Jayalalithaa, chief minister-designate regarding allocation of portfolios among the Council of Ministers," an official Raj Bhavan release said.
"The swearing-in ceremony will be held on May 23 at 11 am at Madras University Centenary Auditorium," it added.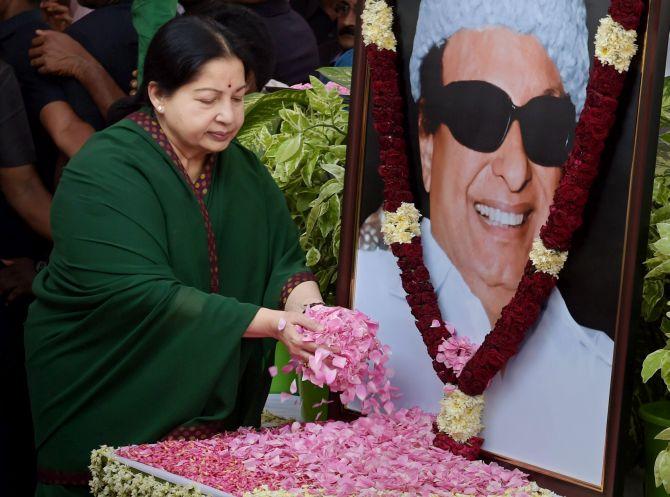 Jayalalithaa pays floral tribute at former chief minister and party founder MGRs statue in Chennai. Jayalalithaa was seen in public for the first time on Friday after her acquittal in the disproportionate assets case a week earlier. Photograph:

R Senthil Kumar/PTI
After her meeting, she went to pay floral tributes to leaders including party founder MG Ramachandran, C N Annadurai and E V Ramasamy, popularly known as Periyar.
Earlier in the morning, Panneerselvam, also the party treasurer, moved a resolution proposing her name as the Legislature Party leader which was seconded by Electricity Minister Natham R Vishwanathan and adopted unanimously.
Party MLAs greeted the announcement with thunderous applause and soon celebrations broke out in various parts of the state which was claimed to have witnessed a spate of suicides following Jayalalithaa's conviction.
A beaming cooperative minister, Sellur K Raju, said, "This is the happiest day of our life."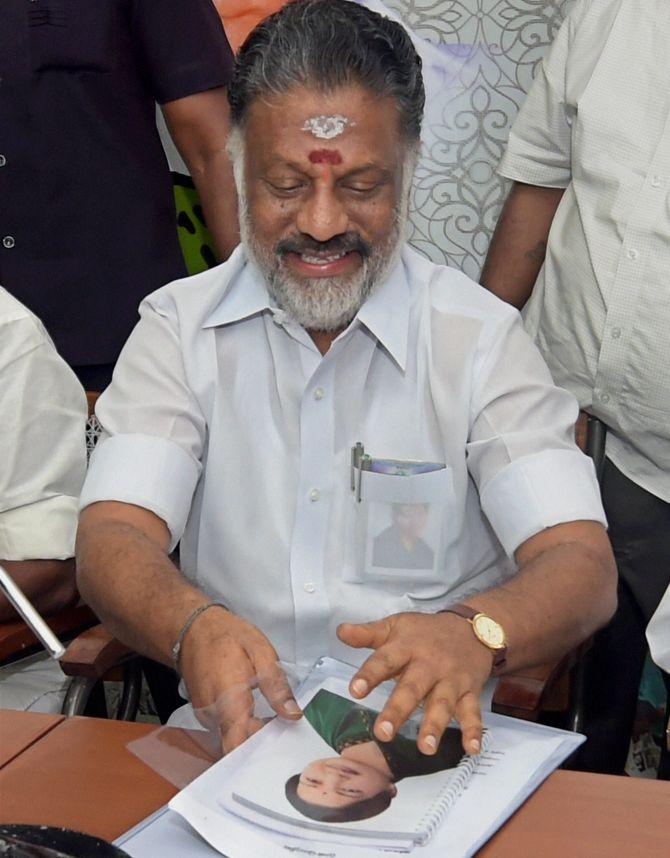 Chief Minister O. Panneerselvam at party MLAs meeting to elect party Supremo Jayalalithaa as AIADMK Legislature Party leader. Photograph: R Senthil Kumar/PTI
In the resolution moved by him, Panneerselvam praised his leader, calling her "gold refined in fire" and described her as the 'permanent General Secretary' of AIADMK.
Soon after, Panneerselvam submitted the resignation of his Cabinet to Governor Rosaiah, who asked him to continue till the time alternative arrangements are made.
Jayalalithaa was disqualified following her conviction in the Rs 66.66 crore disproportionate assets case by a trial court in Bengaluru on September 27. The Karnataka HC had subsequently acquitted her of the charges on May 11.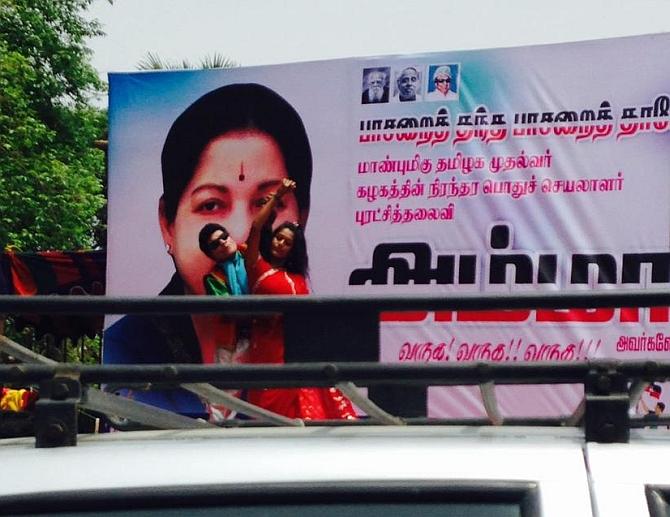 Hoardings celebrating the AIADMK supremo's return to power dotted the city.
Large hoardings hailing the party supremo's return dotted several parts of the city.
"Welcome Mother (Varuga Thaye)", "Dharma has won", proclaimed the captions on hoardings several of which had the image of a lioness alongside the picture of 'Puratchi Thalaivi' (Revolutionary Leader).
The roads leading to Jayalalithaa's Poes Garden residence were decked up with festoons, mango leaves and party flags. Women workers, who had gathered there since early morning, distributed sweets and drew a welcome rangoli for their party chief.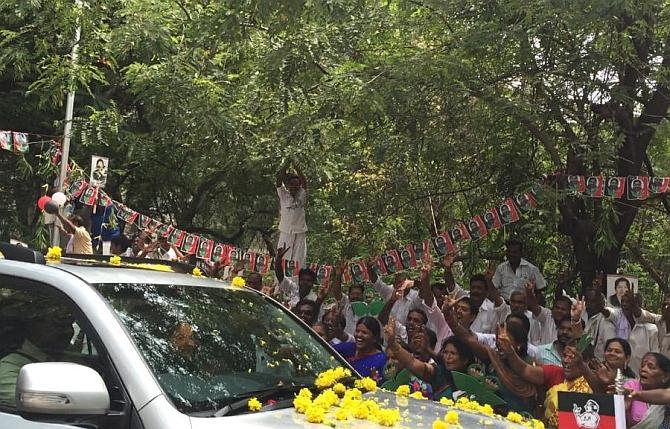 Amma's supporters cried out 'Welcome Mother (Varuga Thaye)' as they stood outside her house.
As Jayalalithaa moved out of her residence making her first public appearance in eight months, she was greeted by thousands of people who showered flowers on her vehicle as it inched towards the governor's residence.
A beaming Jayalalithaa reciprocated as she kept waving from her car and displayed the victory sign towards the party workers, supporters and the general public who cheered her.
A spotlight inside the car focussed on her to make her clearly visible.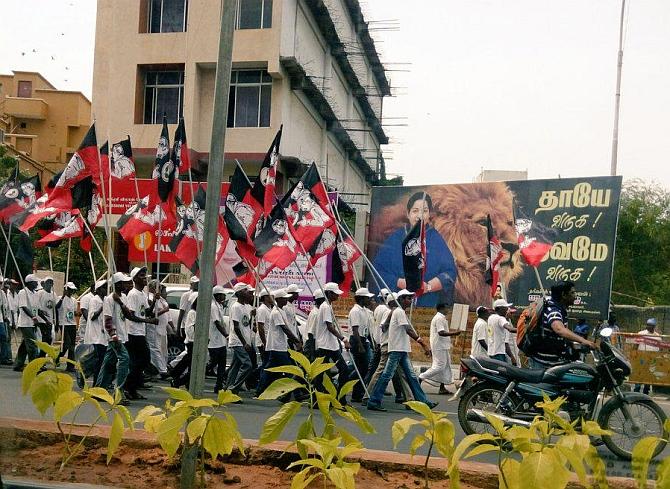 Supporters took out processions to celebrate her victory and return to politics.
Amidst playing of the traditional musical instruments of Tamil Nadu, Jayalalithaa's cavalcade cruised along the four km stretch from her PoesGarden residence.
The leader prayed at a shrine of Lord Ganesh near her residence, en route.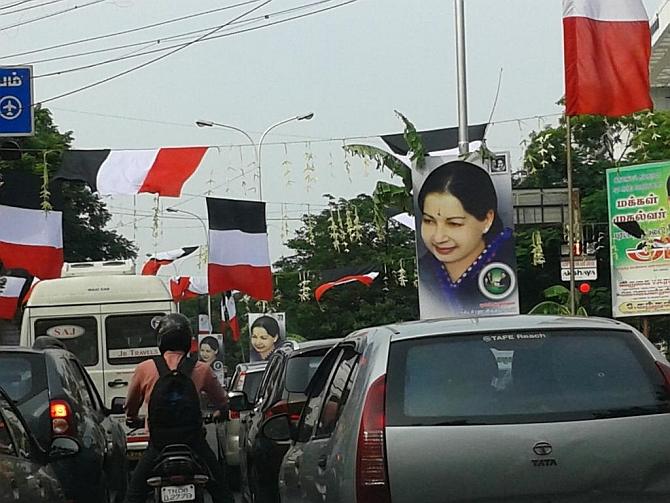 Traffic was affected owing to the celebrations.
Security men, who were perched on either side of her vehicle, and the police had a tough time preventing the crowd from coming too close to the cavalcade as a smiling Jayalalithaa accepted their greetings.
Images Courtesy: Jayashree B @jai_amma/@rkramya/@Sameeraa_Ahmed on Twitter