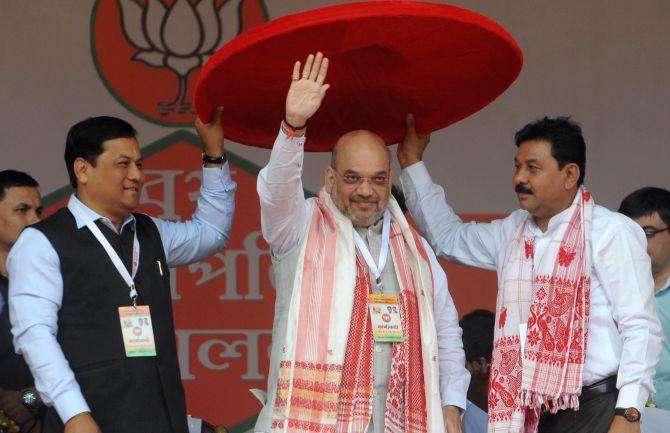 Gearing up for the next general election, Bharatiya Janata Party president Amit Shah on Saturday set a target of 21 seats out of 25 parliamentary constituencies from northeast in Lok Sabha polls in 2019.
Addressing a rally of BJP booth unit chiefs here, he asked the party members to work towards achieving this target.
"I want to give a target for 2019 polls. We want to win more than 21 seats out of 25 seats from the northeast," Shah said in the rally.
"Except Mizoram, all other states in NE are ruled by North-East Democratic Alliance constituents. So all of you need to take it forward," Shah said, adding the party won eight seats from the region during last Lok Sabha polls in 2014.
The BJP needs to win maximum number of seats from northeast to strengthen Prime Minister Narendra Modi so that development of the region continues.
The party chief also asked the Assam BJP unit to expand the network and appoint 'Page Pramukh' or in-charge of each page of the electoral list.
Shah attacked the Congress and said the northeastern part of the country lagged behind other regions post Independence due to faulty policies of the oldest political party of India.
Assam was the fourth developed state in India after Independence but it was fourth from the bottom when Sarbananda Sonowal became the chief minister in 2016, he claimed.
"Congress's policy is divide and rule, while it is sabka saath sabka vikaas for BJP. During 2014 campaign, Modiji had promised to develop northeast like the western part of India. Four years have gone and see the progress of the region done by him" he said.
Assam, he said, had got Rs 79,741 crore from the 13th Finance Commission during the United Progressive Alliance tenure which soared to Rs 1,55,292 crore in 14th Finance Commission during the Modi government.
Without naming former prime minister Manmohan Singh, Shah criticised him for allegedly not doing anything significant for the region despite being elected to the Rajya Sabha from Assam twice.
The BJP chief also listed a series of schemes and financial benefits provided to Assam and the other northeastern states during the NDA regime in the last four years.
"(With) the stand India has taken on Doklam issue under Prime Minister Modi, a message has been sent to the entire world. He has also solved the border dispute with Bangladesh, helping the (northeast) region to prosper," the BJP chief claimed.
He also highlighted the Assam government's thrust to make the state free from corruption, terrorism, foreigners and pollution.
"The insurgent groups of the region are surrendering one after another and development is on. The way NRC update is going on, the foreigner issue will also be resolved soon," Shah added.