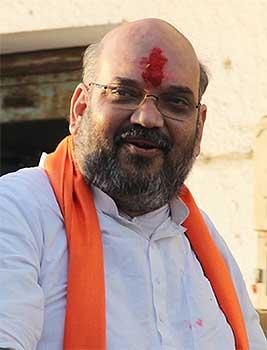 Today, the most important news after the Narendra Modi's oath-taking is that Amit Shah, the man who gifted Modi a tremendous victory in Uttar Pradesh, will not be a Union minister.
He could have been accommodated in the Cabinet and even in the Prime Minister's Office but Shah is keeping away from any post in the government.
Shah refused to take calls nor did he respond to messages.
It's believed that he wants to strengthen the Bharatiya Janata Party at the all-India level. He wants to see that the gains made in terms of percentages of votes in West Bengal and Tamil Nadu are multiplied.
A source in the party said that Amit Shah is planning to learn Tamil and Bengali so that he can deal with workers in these two states.
Soon after the ceremony, he is planning to spend quality time with his family in Ahmedabad and then he will be travelling to the states where assembly elections are due later this year. Currently, he is general secretary of the party in charge of Uttar Pradesh.
Shah is facing criminal cases but that has not prevented him from becoming an MLA. Charges have not been framed against him in any case.
In the cabinet formation exercise, besides Narendra Modi, it was Arun Jaitley and Amit Shah who played a crucial role. Shah and BJP president Rajnath Singh co-ordinated the issues with leaders of the Rashtriya Swayamsevak Sangh.
Photograph: Uttam Ghosh/Rediff.com