Union Home Minister Amit Shah arrived in strife-torn Manipur on Monday night to try restore peace by hammering out a solution between the warring communities.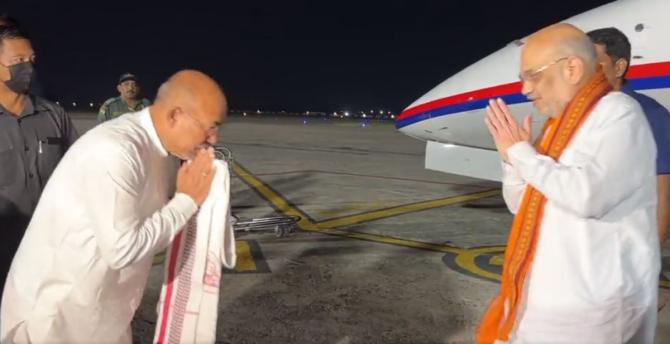 Shah, who flew in to a tense but peaceful Imphal on a special flight, is expected to hold several rounds of meetings on Tuesday and Wednesday to assess the situation and plan steps to restore normalcy, sources said.
Manipur, afflicted by ethnic conflict for nearly a month, witnessed a sudden spurt in clashes and firing between militants and security forces on Sunday, after a relative lull for several weeks.
The death toll from clashes since ethnic rioting began on May 3 has gone up to 80, according to officials with three people succumbing to injuries on Monday and two being killed by firing by militants on Sunday.
Army and paramilitary personnel have been conducting combing operations in the Imphal valley and surrounding districts, an official said. The Army operation is aimed at confiscating illegal caches of arms, he said.
At least 25 miscreants with arms, ammunition and grenades have been rounded up by Indian Army and paramilitary forces across ethnic-strife riven Manipur, officials added on Monday.
A spokesperson for the defence forces said a number of people were detained with weapons after fresh incidents of firing and clashes broke out in and around Imphal valley on Sunday.
"Swift action by the Army averted loss of precious lives and multiple incidents of arson," the statement said.
The defence PRO also said that Sugnu and Serou villages of Kakching district witnessed violent clashes on Sunday which saw the army intervening to rescue people affected.
"Villagers of both the communities were stranded in pockets under the protection of security forces. In a major evacuation drive organised by Army and Assam Rifles in coordination with the police, state administration and civil society organisations, nearly 2000 Meitei villagers were evacuated from Serou to Pangaltabi Relief Camp," he added.
While aerial surveillance cover was given by UAVs, mine protected vehicles and area domination patrols were put in place on ground to ensure safe and incident free evacuation, the official said.
"Similarly, nearly 328 Kuki villagers were safely evacuated to Sajik Tampak from Sugnu," he added.
Earlier on Sunday, Manipur Chief Minister N Biren Singh had said nearly 40 armed militants involved in torching houses and firing at civilians have been killed by security forces since they began an operation to bring peace to the northeastern state beset by ethnic rioting.
Ethnic clashes, which have claimed over 75 lives, first broke out in Manipur after a 'Tribal Solidarity March' was organised in the hill districts on May 3 to protest the Meitei community's demand for Scheduled Tribe (ST) status.
The violence was preceded by tension over the eviction of Kuki villagers from reserve forest land, which had led to a series of smaller agitations.
Meiteis account for about 53 per cent of Manipur's population and live mostly in the Imphal Valley.
Tribals Nagas and Kukis constitute another 40 per cent of the population and reside in the hill districts.
Around 140 columns of the Indian Army and Assam Rifles, comprising over 10,000 personnel, besides those from other paramilitary forces, had to be deployed to bring back normalcy in the northeastern state.
© Copyright 2023 PTI. All rights reserved. Republication or redistribution of PTI content, including by framing or similar means, is expressly prohibited without the prior written consent.