Kicking off Uttar Pradesh poll campaign, Bharatiya Janata Party president Amit Shah on Saturday took a dig at infighting in the Mulayam Singh Yadav family and targeted the ruling Samajwadi Party as well as the Bahujan Samaj Party, saying neither party is bothered about development of the state.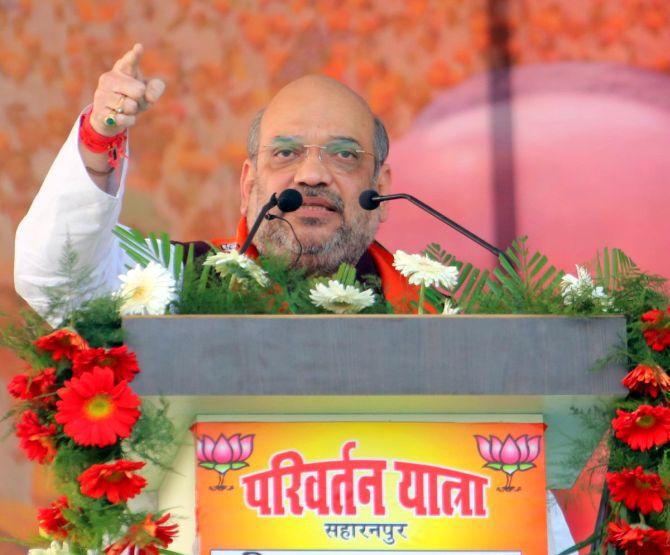 Addressing 'Parivartan rally' (rally for change) in Saharanpur in western UP, he said the state has lagged behind in development because of the SP and the BSP rule and that only a BJP government with full majority can bring it back on track.
"While on one hand, it is the nephew (Chief Minister Akhilesh Yadav) who is abusing the uncle (SP state unit president Shivpal Yadav), on the other behenji (BSP supremo Mayawati) is abusing both of them...No one is concerned about the development of the state," Shah said.
"The state has lagged behind a lot...the SP and the BSP cannot improve the situation here and it will be only the BJP government with full majority which can bring the state back on tracks," he said.
Attacking 'goonda' elements in the ruling SP, he alleged that the party is mired in illegal mining among other ills like corruption.
Shah said while Akhilesh wants to project himself as 'vikas purush' (development man), people like mafia don Mukhtar Ansari are in his party despite the chief minister claiming they would not be allowed in.
"The entire SP is filled with such people," he added.
Targeting Mayawati, the BJP chief said, "behenji says she will improve the situation but she has Naseemuddin Siddiqui".
He contended that, "it is between devil and deep sea for the people of the state in the context of these two parties."
Shah also took veiled dig at Samajwadi Party's efforts to form a 'mahagathbandhan' ahead of the upcoming Assembly polls by hosting senior leaders of the erstwhile Janata Parivar in the state capital, Lucknow on Saturday, saying "they are happy shaking hands with each other..but what would happen by your shaking hands? In a democracy, government is formed only when the people shake hands with you".
Attacking Mayawati, he said though she claims to make the state "goonda free" (criminal free), she needs to recall the number of scams which took place during her previous government."
Citing the different scams worth thousands of crores, Shah alleged that all the funds meant for development were used in setting up memorials and statues. "If she returns to power, she will set up 200 to 300 more of her statues instead of doing any good for the state," he said.
Alleging that SP, BSP and Congress have spoiled UP, Amit Shah said only BJP can provide a "goonda-free" UP.
Attacking Congress vice president Rahul Gandhi for his stand on 'One Rank, One Pension', the BJP chief said, "he seems to have forgotten that the issue is very old and despite Congress being in government led by his relatives all this while, nothing was done to redress this demand."
"It is very shameful that vote politics is being done on the suicide of an ex-serviceman to mislead the people...But they will not get influenced as they know the reality and servicemen know that it is the Modi government which has given them OROP," he stressed.
He also criticised Rahul Gandhi for his comments after surgical strikes that Prime Minister was doing 'khoon ki dalali' (using blood of soldiers for political gains).
"During your (Congress governments), there were firings on the borders regularly but it is the Modi government which is at the helm now and it knows well how to give a befitting reply," Amit Shah said.
Attacking BSP, SP and Congress for raising a lot of hue and cry over the Modi government's stand on triple talaq, Shah asked, "should the rights of Muslim women not be safeguarded? Should the triple talaq like arrangement not be done away with? ..What is this mockery you are playing with the rights of women for vote bank politics?"
Photograph: @BJP4India/Twitter
© Copyright 2021 PTI. All rights reserved. Republication or redistribution of PTI content, including by framing or similar means, is expressly prohibited without the prior written consent.