Despite the presence of mosquitoes and reeking fields, workers continue to give shape to Sri Sri Ravi Shankar's event where 3.5 million people are expected to convene, reports Sahil Makkar.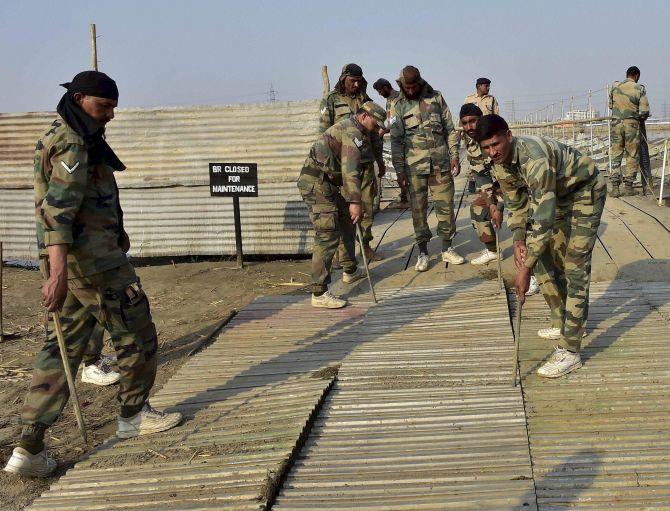 In one corner of the Yamuna riverbed, hundreds of workers are busy striking hammers to give a final shape to a large stage from where Prime Minister Narendra Modi will inaugurate the World Culture Festival beginning March 11.

The stage is set up on seven acres to host India's biggest public event, which is expected to see the presence of 3.5 million people over three days. Authorities have constructed six temporary bridges to reach the venue, which is surrounded by reeking water and fields. But neither the stink nor the impending verdict of the National Green Tribunal has made any difference to the workers and the civic agencies, which have swung into action to give final touches to their month-long preparations.

"I am immune to the smell now. I have been working here for the last 30-35 days," says Dheeraj Kumar, a Public Works Department contractor as he tightens screws of one of the bridges. Kumar says his team has built the 400 metre bridge, which 15,000 people can cross in one hour. The authorities will be hard pressed in regulating one million people using these six makeshift bridges daily to cross the river and arrive at the venue.

The next challenge before the attendees is to avoid the mosquitoes, brace the traffic, and the long-queues for security checks at the 12 entrance gates. Given the list of international artists, ambassadors, chief ministers and dignitaries, an unprecedented security cordon is expected around the venue. A police control room has been set up and the area has been searched thoroughly.

"The security is so tight that the Special Protection Group has prohibited the media and others from clicking pictures," says Prasana Prabhu, spokesperson of the Art of Living Foundation, which is organising this event. It claims not to have received any funding from the government.

Prabhu says 35,973 artists from 155 countries are participating. The biggest attraction is the orchestra of 8,500 musicians and 1,700 artists performing Bharatanatyam. He claims the activities on the riverbed are environment safe as the non-profit organisation has not created any permanent structure.

"We only started our preparations after obtaining all necessary permissions from the authorities concerned. We are very sensitive and have rejuvenated 16 rivers in the past. We would not do anything to destroy the Yamuna," he says.

The organisation also claims to have fully paid farmers whose crops were destroyed during the preparations for the event.
Image: Army personnel construct temporary bridges over Yamuna river for the three-day World Peace Festival organised by spiritual guru Sri Sri Ravi Shankar in New Delhi. Photograph: Kamal Kishore/PTI