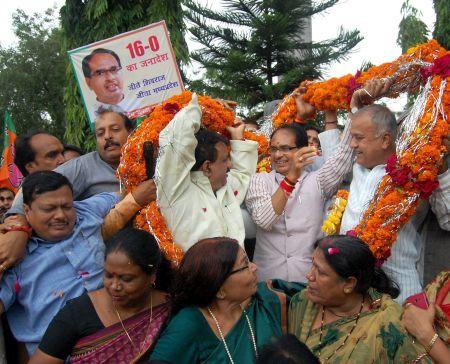 The ruling party won eight out of 10 civic bodies, votes for which were cast on August 12.
The Vyapam scam controversy failed to dent the Bharatiya Janata Party's popularity in Madhya Pradesh where the state's ruling party clinched eight out of 10 civic bodies, prompting Prime Minister Narendra Modi to thank the voters.
"MP civic poll results are gladdening. I thank people of MP for reposing their trust in BJP. I salute efforts of karyakartas (workers) and party leaders," Modi tweeted.
"Thank you very much for your continued support and faith. MP will continue to work under your dynamic leadership," Chief Minister Shivraj Singh Chouhan, who has been facing demands for his resignation over the scandal, tweeted.
The elections were held on August 12.
"The state is moving rapidly on the path of development. It has no place for negative politics. The sooner the opposition realises it, the better," Chouhan said in another tweet.
BJP registered victories in Morena, Ujjain, Harda, Chakghat in Rewa district, Bhainsdehi in Betul district, Kotar in Satna, Suwasara in Mandsaur and Vidisha municipal bodies.
A Congress and an Independent candidate were elected as president of municipalities in Sarangpur in Rajgarh district and Guhwara in Chhattarpur district respectively.
BJP had swept the civic polls in the state held earlier this year. Elections in the aforementioned 10 municipal bodies could not be held then due to various reasons.
The BJP later asked the Congress leadership to do "self introspection", while terming the victory as one for politics of development.
The success of BJP is an indication of the development politics... We would like to say Congress party president Sonia Gandhi and vice president Rahul Gandhi Gandhi need to be more practical. They need to do self introspection," BJP spokesperson Sudhanshu Trivedi said.
Trivedi said that the Congress party's chief strategists in Madhya Pradesh, which include both senior leaders as well as youth leaders, also need to reconsider their strategy in the face of defeat in the civic body polls.
The stupendous success of the party in these polls is a "reaction" and "anger" of the people of Madhya Pradesh against those who tried to tarnish the image of the party in the state, he said.
Image: Madhya Pradesh Chief Minister Shivraj Singh Chouhan alongwith state BJP President Nandkumar Singh Chouhan celebrating with party workers after BJP clean sweeps in Madhya Pradesh civic polls. Photograph: PTI