As India recorded its first two deaths due to seasonal influenza subtype H3N2, one each from Karnataka and Haryana, Union Health Minister Mansukh Mandaviya on Friday asked states to be on alert and closely monitor the situation in view of 'rising' cases.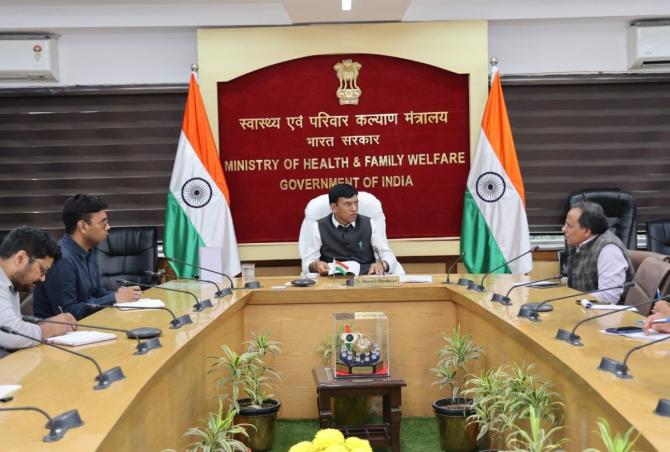 From January 2 to March 5, 451 cases of H3N2 have been reported in the country, according to data shared by the health ministry.
'It can be seen that Influenza H3N2 is the predominant subtype among the samples testing positive for influenza, since the beginning of this year,' it said.
In a tweet, Mandaviya said, 'Held a meeting to review rising cases of #H3N2 Influenza virus in the country. Advisory issued to states to be on the alert and closely monitor the situation. Government of India is working with states and extending support for public health measures to address the situation.'
The ministry is also tracking and keeping a close watch on morbidity and mortality due to the H3N2 subtype of the seasonal influenza, according to an official statement.
'Young children and old age persons with comorbidities are the most vulnerable groups in context of seasonal influenza. So far, Karnataka and Haryana have confirmed one death each from H3N2 influenza,' the ministry said.
In an advisory issued by the Indian Council of Medical Research (ICMR) last week, it urged people to wash hands with soap and water if symptomatic, wear masks and avoid crowded places, and cover mouth and nose while sneezing and coughing.
The apex health research body also advised people to take plenty of liquids, avoid touching eyes and nose, and take paracetamol for fever and bodyache.
Among the don'ts, it has urged people not to shake hands or use other contact greetings, spit in public, not to take antibiotics or other medicines without consulting doctor and eat together sitting close to others.
© Copyright 2023 PTI. All rights reserved. Republication or redistribution of PTI content, including by framing or similar means, is expressly prohibited without the prior written consent.