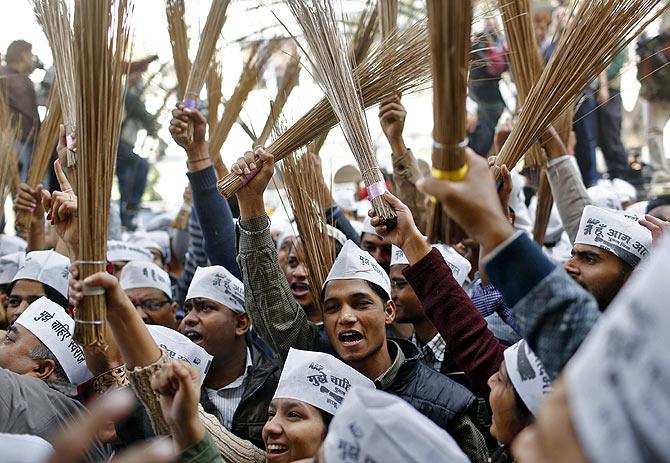 Amid the ongoing crisis in Delhi, the Aam Aadmi Party is looking at taking a plunge into the political cesspool of Uttar Pradesh, where state assembly elections are to be held in 2017.
The party's senior functionary Sanjay Singh, who enjoys close proximity to Delhi Chief Minister Arvind Kejriwal, is visiting Lucknow to take stock of the situation in Uttar Pradesh. And with him came AAP's latest slogan, "Dilli mein dikhaya dum; ab UP mein aa gaye hum."
However, not all is well with the AAP in Delhi. Kejriwal on Wednesday offered to quit as AAP convenor as the party met to decide the fate of two senior leaders -- Yogendra Yadav and Prashant Bhushan -- who repeatedly attacked him. According to PTI, Yadav has been shunted out of AAP's decision-making body.
Singh's arrival in Lucknow came as a shot in the arm for the local cadres of the party, which is attracting a whole lot of attention after it swept the Delhi assembly elections with a record victory.
The enthusiasm of the common people to go for AAP became amply visible when thousands made a beeline behind Sanjay Singh on his arrival at the Lucknow railway station. And the bulk of them were three-wheeler drivers, rickshaw-pullers and street vendors.
AAP's UP spokesman Vaibhav Maheshwari, who has been closely associated with it well before it was given a formal political shape, said, "Our USP is honesty and integrity, which is what has become a rare commodity with conventional political outfits."
"Our goal is to ensure that people rise above the traditional politics of caste and religion and pursue the politics of issues," he adds.
Maheshwari sees a lot of hope and promise. "We have already set up our units in each of the 72 districts of the state; we have made a good impact particularly in urban areas. Therefore, our thrust will now be on rural areas."
According to him, "even where people are not aware of the Aam Aadmi Party, they are familiar with our symbol -- 'jhadoo' -- which they see a sign of honesty."
Evidently, the party is all set to grow in UP by leaps and bounds. But owing to the strict screening adopted by the party leadership, it is taking time to grow. "We do not want to rush, because our primary objective is to ensure that only committed people gain entry into the party and that opportunists are kept at bay," said Sanjay Singh.
"Once we are on a strong political footing and we have truly committed rank and file, we will take a call on entering the electoral fray of Uttar Pradesh in 2017," he added.