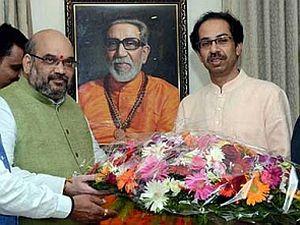 Reaching out to National Democratic Alliance partners ahead of the 2019 general elections, Bharatiya Janata Party chief Amit Shah will meet Shiv Sena president Uddhav Thackeray in Mumbai on Wednesday and Shiromani Akali Dal supremo Parkash Singh Badal in Chandigarh the following day, party leaders said on Tuesday.
On June 3, Shah met Lok Janshakti Party chief and Union minister Ram Vilas Paswan, who raised the issue of special status for Bihar.
The series of meetings are being seen as an attempt by the Bharatiya Janata Party to reach out to allies who have either been criticising or expressing their dissent with the party and also to strengthen the National Democratic Alliance ahead of the Lok Sabha polls next year.
"Amit Shah sought time to meet Uddhavji. Accordingly, an appointment for tomorrow evening has been given to him," Sena MP Sanjay Raut said in Mumbai.
However, he questioned the need for Shah to meet Thackeray after a gap of four years.
Shah, who will meet Thackeray at his Mumbai residence on Wednesday, will travel to Chandigarh the day after that to call on Badal and his son, Shiromani Akali Dal president Sukhbir Badal, a BJP leader said.
While the BJP president travels to Mumbai and Chandigarh, he has also instructed that a "mahabhoj" (grand dinner) be held for all NDA allies on June 7 in the Bihar capital Patna. It will be attended by Chief Minister Nitish Kumar, Deputy Chief Minister Sushil Modi and Union ministers Paswan and Upendra Kushwaha.
The BJP general secretary and the party's Bihar in-charge Bhupendra Yadav, state party BJP president Nityanand Rai and another NDA ally Arun Kumar will also attend the event, a party leader said.
Invitations have been extended to all NDA MLAs, MLCs and MPs from Bihar for the dinner.
The outreach programme is aimed at reinforcing the unity of NDA at a time the entire opposition is trying to come together to stitch an alliance for the 2019 elections.