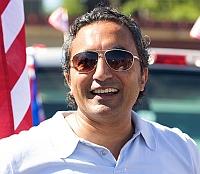 Dr Ami Bera was on the cusp of creating history by becoming only the third Indian-American ever to be elected to the United States House of Representatives, as five others from the community bit the dust in the polls.
Bera, 45, had a lead of just 184 votes against his Republican rival and incumbent Dan Lungren, when all the votes were counted for the seventh congressional district in California.
But the secretary of state, California put the results in the category of 'close contest', in which there is less than a two per cent difference between the first and second place for candidates or between yes and no votes for ballot measures.
According to the office of the secretary of state, California, Bera had received 50.1 per cent of the total votes counted, while Lungren had received 49.9 per cent of the votes.
Bera received 88,406 votes, while Lungren got 88,222 votes. So far only two Indian-Americans have been elected to the US house of representatives.
Dalip Singh Saund, was the first Indian-American elected to the US congress in 1950s, while Bobby Jindal, was a house member from 2005 to 2008 before being elected as the governor of Louisiana.
Bera whose parents migrated to the US some 50 years ago was endorsed by charismatic Bill Clinton, the former US president, last month and he campaigned in his favour twice. He had outraised his opponent in fund raising.
In neighbouring ninth congressional district of California, 'young gun' Republican Ricky Gill lost by more than 10,000 votes (nearly seven percent votes) to incumbent Democrat Jerry McNerney.
Gill, 25, was endorsed by top Republican leaders, including Louisiana Governor Nikki Haley, New Jersey Governor Chris Christie and former Governor of Florida Jeb Bush.
The rest of the four Indian American candidates -- Dr Syed Taj, Dr Manan Trivedi, Upendra Chivukula and Jack Uppal – also lost the Congressional elections. Except for Gill who represents the Republican Party, the other five candidates were from the Democratic Party.
Three of them were physicians by profession. In Michigan's 11th congressional district, considered to be a Republican stronghold, Democratic Dr Syed Taj, who originally hails from Bihar and is the younger brother of Syed Shahbuddin, gave a tough fight to his opponent K Bentivolio.
Pollsters were having a tough time in making any projection even when 90 per cent of the votes were counted, when Dr Taj was trailing behind by nearly 20,000 votes.
Upendra Chivukula, who is the deputy speaker of the New Jersey assembly, lost to incumbent L Lance by a huge margin of more than 50,000 votes (about 18 percentages). The seventh congressional district in New Jersey has been a traditional Republican seat.
For Iraq war veteran, Dr Manan Trivedi, from the Democratic Party this was his second consecutive loss to the seating Republican Congressman J Geralch. In the sixth congressional district in Pennsylvania, Trivedi was defeated by more than 46,000 votes.
In California's fourth congressional district, Jack Uppal of Democratic Party was defeated handsomely by Republican opponent Congressman T McClintock. He lost by a margin of more than 20 per cent.
Picture courtesy: Ami Bera's website