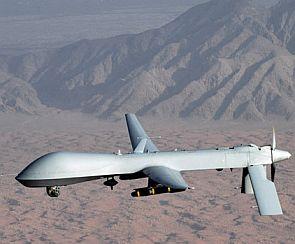 At least six suspected militants were killed and three others wounded in a US drone strike on a compound in Pakistan's North Waziristan Agency near the Afghan border.
The drone fired three missiles on a compound believed to be owned by the Haqqani network of Afghan Taliban in the village of Darga Mandi in Ghulam Khan Tehsil late last night.
Six suspected militants were killed whereas three others were injured in the strike, media reports said.
The CIA-operated spy planes continued their low-altitude flights in the area after the incident, local residents said.

On August 31, a US drone killed at least four militants in a missile strike targeting a compound in the village of Heso Khel, around 35 kilometres east of Miranshah.
The US has not stopped its drone campaign despite repeated protests from Pakistan, which describes the attacks as violation of its sovereignty and counter-productive for the war on terror.
US officials maintain the strikes have eliminated a lot of high-ranking Al Qaeda and Taliban militants.
Earlier, US Secretary of State John Kerry had hinted towards an end of the drone campaign in the tribal areas of Pakistan, as he said on August 1 that the signature strikes could end "very soon".
This was the first time that a senior US official had indicated that there could be a definitive end to the programme, which the CIA has in the past called an effective counter-terrorism weapon.
According to reports, a total of 565 militants have died in around 400 drone strikes in Pakistan. However, rights groups say many non-combatants have also been killed.
Pakistan Tehrik-e-Insaf chief Imran Khan condemned the attack and said he will raise the issue of drone attacks during an all-party meeting next week.