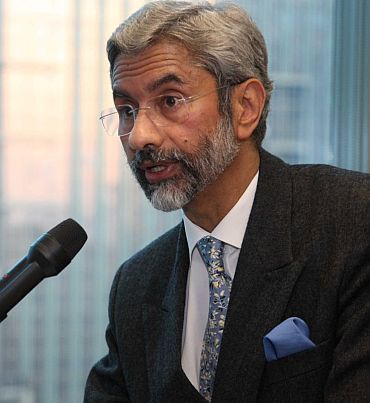 'We clearly have very differing views about immunity. We have very clearly differing views about which one of our diplomats is respecting the law,' believes Dr S Jaishankar, India's envoy to the US
To no one's surprise, the first question directed at Indian Ambassador to the United States Dr S Jaishankar -- at the end of his first public address since he assumed his duties in December -- was about the controversial Devyani Khobragade episode.
Jaishankar was speaking at the Carnegie Endowment for International Peace on the promise of, and prospects for, the US-India relationship.

A young Indian American audience member asked him why the Indian government's response to the indictment of Khobragade has given the "impression that the Indian government is more concerned about a diplomat than the rights of a domestic worker, who was also an Indian citizen."

The questioner also asked Jaishankar if he agreed that India-US relations can only move forward 'in a positive way if Indian diplomats respect the US rule of law, including US labour laws that cover domestic workers,' and if India would 'enact policies to bring their diplomatic corps into compliance with US labor laws.'

"Why doesn't that question surprise me," said Jaishankar, adding, "The fact is that they had a dispute and the dispute was already in litigation in India. So, whatever happened here was an attempt to supersede whatever was happening in India, and that was not taken too kindly."

To a question on whether Indian diplomats should respect US laws, he said, "I would take the liberty of making it into a bigger question -- should all diplomats respect all laws and my answer would be yes".

Going on the offensive, Jaishankar asserted, "If you are looking at respective laws, I think American diplomats should respect Indian laws equally. And that is an issue which is today under discussion."

"On this issue, let me say this, we clearly have very differing views about immunity," he said. "We have very clearly differing views about which one of our diplomats is respecting the law".

Jaishankar noted that "we have issues in India too about respect or lack of it by American diplomats of Indian law."

"This is not going to be settled by you or me debating it -- it is going to be settled by people who know their business, sitting down, working their way through immunity issues, arriving at a mutual acceptable understanding," he said.

Jaishankar argued, "We cannot have one definition of immunity for Indian diplomats in the United States and a completely different definition of immunity for American diplomats in India. So, as I said, it's an issue we need to work through".

Former National Security Council spokesman and erstwhile Assistant Secretary of State for Public Affairs P J Crowley asked him why India had not resolved this issue earlier diplomatically since the US had informed the Indian embassy that Khobragade was being criminally investigated for visa fraud.

Disputing the contention of US had intimated India about the situation, he asserted that it was India that first went to the State Department with this issue and the US was only responding to a concern that Delhi had expressed -- that Khobragade's differences with her maid Sangeeta Richard was already an issue of litigation in India.

Jaishankar, while acknowledging that he too was among those who believed 'this situation should never have happened,' reiterated that "there are a number of issues, which have come up as a result of this incident and one of it is an issue of immunity --how do we see each other's immunity."

"Another is an issue of privileges -- what do we do, what should we be doing, what should we not be doing. There is also a basic issue of how diplomats are treated. That is a fact as well."

Jaishankar said it was also a no-brainer that the way the issue was handled -- with Khobragade being arrested and handcuffed and subjected to a strip and cavity search – "also had an impact on public opinion."

Earlier, in his prepared remarks, he had concluded by saying that "for those of us who have devoted time and energy to building Indo-US ties, the last few weeks have been truly distressing. What I have encountered since my arrival is the sense that this situation should never have happened."

"But since it did, we will now have to work through this problem. That is part of the conversation underway. But what the issue does highlight is the need for greater sensitivity, for better understanding and for stronger oversight of our ties. I rest my case on that note".

Jaishankar then told Crowley, "Frankly, having said that, I don't wish to go on about this. We have a big relationship, we have -- by all accounts -- a fairly successful relationship, and my advise to anybody else who has any further questions on this, is that leave the people who are dealing with this to deal with this. They are going to be sitting down and talking and working late through this.'

He then fielded questions about Iran, China (since he has earlier served as an envoy to Beijing), Japan, India's Look East policy, nuclear risk-reduction vis-a-vis China and Pakistan and even about India's detention of Italian marines for their killing of Indian fishermen.

Earlier in his speech, which was an undeniable tour-de-force in terms of a tough no-holds-barred assessment of US-India relations, Jaishankar took on some of the contentious issues in the relationship, particularly vis-à-vis economics and trade, and let fly some zingers the likes of which have not been seen or heard from an Indian envoy in years.