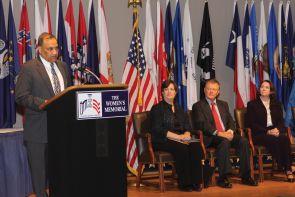 Accepting the Outstanding American by Choice award from Rand Beers, acting secretary, homeland security, at a ceremony held at the ArlingtonNationalCemetery on Veterans Day, Dr Rahul Jindal, a transplant surgeon at the Walter Reed National Military Medical Center in Bethesda, Maryland, saluted America.
'Today is a time for celebration -- for myself, my family, and friends and for our newest citizens,' he said. 'We have achieved a dream which will be cherished for generations to come.'
The award recognises the outstanding achievements of naturalised United States citizens. Jindal became a US citizen in 2006.
USCIS Deputy Director Lori Scialabba honoured Jindal.
Jindal said, 'I shall quote from my fellow Indian American, Fareed Zakaria of CNN, "I am an American not by accident of birth, but by choice. I voted with my feet and became an American because I love this country and think it is exceptional and will continue to be exceptional." To which I may add that I love this country for many reasons -- the most important is that this is the only country where immigration is celebrated.'
He described his journey from Ahmedabad to the United Kingdom, then to the US East Coast and Midwest, and then to Maryland.
'In good times and bad, we, the new citizens should rise to current historical challenges and participate in the democratic process rigorously. Some of the issues being debated are how to provide health care to every American, reduce the disparity in health and wealth here in America and in the world. The issue of immigration reform concerns us and deserves our attention now,' Jindal said.
'We as new citizens from many different nations should engage with our leaders and even run for office, such as my friend here in the audience, Majority Leader Kumar Barve of Maryland, whose grandparents immigrated from India.'
Jindal cited Louisiana Governor Bobby Jindal and South Carolina Governor Nicky Haley as people who have broken the glass ceiling and are an inspiration.
Jindal, well-known for his work for Hindu charitable activities, is a professor of surgery, Uniformed Services University of Health Sciences, Bethesda, and clinical professor, George Washington University, Washington, DC.
In the late 1990s, he performed the world's first operation to link a tube with blood vessels in the damaged liver of a critically ill six-year-old boy.
Jindal also set up the first comprehensive kidney dialysis and kidney transplant program in Guyana, South America, and successfully performed the first living kidney transplant in that country.
In the US in 2009, he performed the first-ever pancreas islet cell transplant for traumatic pancreas in a wounded soldier.
Jindal co-authored a book, The Struggle for Life: A Psychological Perspective of Kidney Disease and Transplantation, which is used as a standard physicians' textbook around the world.
He is associated with several medical organisations and was recently appointed commissioner of the Maryland governor's Office on Service and Volunteerism.
Jindal is the director of the National Blood and Bone marrow Drive Campaign, sponsored by about 600 Hindu temples across North America.
His wife Dr Kalpana R Jindal is an internist at Washington Hospital Center. Daughter Mayuri Jindal is a pediatric resident at Yale University, and son Tarun Jindal is a final year medical student at Indiana University.
Image: Dr Rahul Jindal, left, at the award ceremony