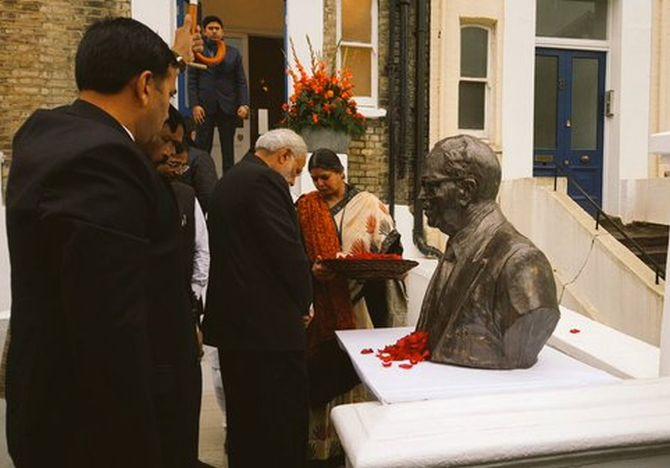 Floral tributes were paid to the Dalit icon and architect of the Indian Constitution Babasaheb Bheem Rao Ambedkar on Wednesday in London, where a new memorial for him was the focal point of his 125th birth anniversary celebrations.
India's Deputy High Commissioner to the United Kingdom Dr Virander Paul paid floral tributes to a bust of Dr Ambedkar at 10 King Henry's Road, where the Indian leader lived in 1921-22 during his student days at London School of Economics.
"This home holds a very special place in the life and legacy of Dr Ambedkar and therefore in the hearts and minds of Indians. It is for the first time ever, we have gathered here to observe Dr Ambedkar Jayanti, a great son of India," Dr Paul said at a special ceremony, which opened with the chants of a Buddhist prayer.
The event was attended by representatives of the London-based Federation of Ambedkarites and Buddhist Organisation, UK, which had launched a campaign a few years ago to urge the Indian government to purchase the property as a historically relevant monument.
The sale was completed by the Maharashtra government last year resulting in the creation of the Dr Ambedkar Memorial for Social Justice, which was officially inaugurated by Prime Minister Narendra Modi during his visit to the UK last year.
The six-room three-storey Victorian home is to soon open to the public as a memorial.
The main floor includes a large bust of Dr Ambedkar, a selection of black and white photographs depicting his life and work, his famous quotes painted on the walls and a room dedicated to bound copies of his writings as well as a large wall painting of the preamble of the Indian Constitution.
"This memorial is dedicated to the sheer hard-work and dedication of Dr Ambedkar, who walked here from LSE every day because he didn't have the money for public transport. He is a true inspiration," said Councillor Larraine Revah, the Mayor of Camden -- the London council which houses the memorial.
The details of the shape and form of the new memorial are in the process of being finalised after consultations between the Maharashtra government and the Ministry of External Affairs in India.
Among some of the proposals under consideration for the memorial-cum-museum is a plan to use one of the floors as a transitory residence for Indian students who arrive in the UK to study.
Image: Prime Minister Narendra Modi inaugurating the memorial dedicated to Dr B R Ambedkar in London during his UK visit last year. Photograph: @PIB_India/Twitter