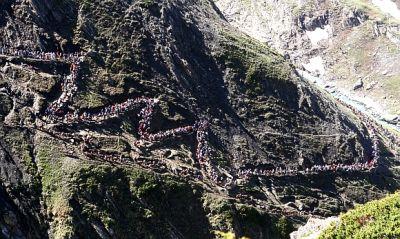 In a bid to enhance preparedness for disaster management among government officials involved in management of the annual Amarnath Yatra starting July 2, National Disaster Management Authority has planed to conduct a three-day mock drill.
This was stated by NDMA member Lt Gen (Retd) N C Marwah who called on Jammu and Kashmir Governor N N Vohra, the chairman of Shri Amarnathji Shrine Board, at Raj Bhavan in Srinagar on Wednesday evening, an official spokesman said.
Briefing the Governor, Marwah said the projected mock drill would be conducted from June 25 to June 27 by the NDMA in collaboration with the SASB at the base camps of Baltal along the shorter 16-km track in Ganderbal district and Nunwan in Pahalgam along the 45-km traditional route to the 3,880 metre high holy cave in Anantnag district.
The exercise is aimed at enhancing preparedness for disaster management among the functionaries of SASB and officials of the various government departments and agencies involved in the management of the 59-day Yatra which starts on July 2, he said.
Several hundred employees of Shri Mata Vaishno Devi Shrine Board have already been trained in Disaster Management by the NDMA.
The spokesman said the Governor also discussed with Marwah wide ranging concerns relating to disaster management preparedness in the state and NDMA's role in guiding the state government to formulate state and district disaster management plans.
Marwah, who also called on Chief Minister Mufti Mohammad Sayeed, indicated that NDRF would assist the state government by way of capacity building of various agencies for effective disaster management preparedness, the spokesman said.
Keeping in view the devastating floods that hit the state last year, Marwah said the NDRF will work in tandem with SDRF, NGOs and other stakeholders so that people are made aware about taking preventive measures in dealing with calamities.
He informed the chief minister that the NDRF has necessary equipment and manpower to professionally support stakeholders in dealing with such situations.
Sayeed said the 2014 floods wreaked havoc resulting in unprecedented damage to public and private property, and the state government has taken several steps to ensure against such calamities, particularly, by way of strengthening river embankments and dredging the river and spill-over beds.