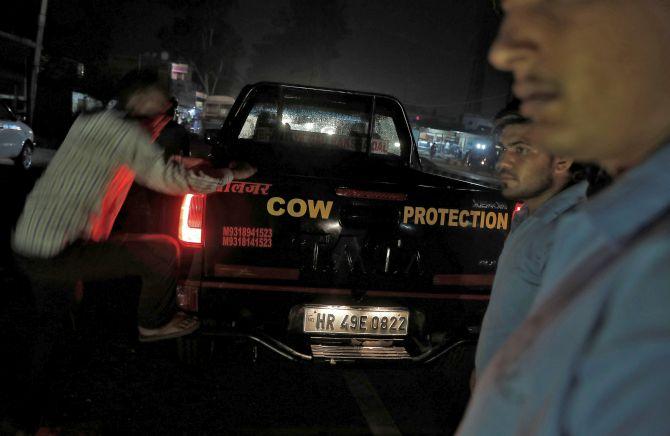 Umar Khan, who was recently killed in an exchange of fire with alleged cow vigilantes at Alwar in Rajasthan, had a history of cow-smuggling and his accomplice Tahir, who was injured in the incident, was a habitual offender, the police said today.
There were five-six cases against Tahir in Bharatpur and Dausa districts of Rajasthan and one case of cow-smuggling against Umar at the Govindgarh police station of Alwar, which was registered in 2012, Alwar Superintendent of Police Rahul Prakash said.
The past crime records of another accomplice of the duo, Javed, were yet to be ascertained, he said, adding that the police in the neighbouring states were asked to check the criminal antecedents of the trio.
Mool Singh Rana, Assistant Superintendent of Police, Alwar, said on November 10, Umar, Tahir and Javed were ferrying cattle in a stolen vehicle, which had a number plate of a motorbike.
There was an exchange of fire between the trio and alleged cow vigilantes at Alwar, in which Umar died, Tahir received injuries, while Javed managed to flee, the police said.
Umar's body was found on the railway tracks at Ramgarh in Alwar district. His relatives and social activists subsequently alleged that he was killed by cow vigilantes.
The incident was also dubbed as a re-run of the Pehlu Khan lynching, which was reported from the state in April.
Sources at the Sawai Man Singh Hospital said the post-mortem of Umar's body was yet to be performed.
Meanwhile, the family members of the deceased and social activists took out a "justice march" on Wednesday from the Muslim Musafirkhana to the chief minister's residence here, demanding an appropriate action against those found guilty in the case.
Image: Cow vigilantes prepare to set up a road block near Chandigarh to stop cow smuggling. Image used for representation purposes only/Cathal McNaughton/Reuters