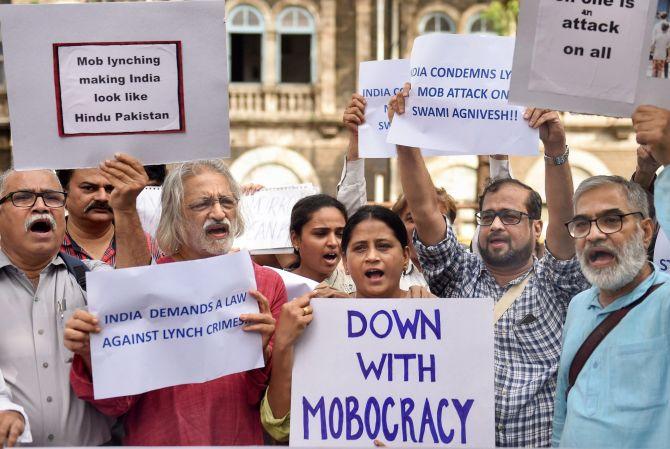 The Supreme Court on Monday agreed to hear on August 28 the pleas seeking contempt action against the Rajasthan government in the recent mob lynching case at Alwar.
In the contempt pleas filed by Tushar Gandhi and Congress leader Tehseen Poonawala, they alleged that incidents of mob lynching and vigilantism were taking place despite an apex court verdict in this regard.
A bench of Chief Justice Dipak Misra said it would hear the petitions on August 28.
Presenting their case in front of the bench, also comprising Justices A M Khanwilkar and D Y Chandrachud, Gandhi and Poonawala sought contempt action against the Rajasthan government.
The petitioners urged that directions be issued to follow the apex court verdict in letter and spirit.
The bench said it would take up the matter along with the main case on August 28.
The Supreme Court had on July 17 asked the Parliament to consider enacting a new law to effectively deal with incidents of mob lynching, saying "horrendous acts of mobocracy" cannot be allowed to become a new norm.
On July 21, a man was allegedly lynched by a group of people on suspicion that he was smuggling cows in Alwar district of Rajasthan.
The incident took place a little more than a year after Pehlu Khan, a dairy farmer, was lynched by cow vigilantes in Alwar when he was transporting cattle to his village in Haryana on April 1, 2017. The mob suspected that Khan was smuggling cows. He died on April 3, two days after the incident.
In November last year, Umar Khan, 35, was found dead near railway tracks and his family members had alleged that he was killed by cow vigilantes.
Over the past year, several such attacks have happened in Alwar city of Rajasthan, where vigilante groups have targeted people transporting cattle.
On September 6, 2017, the apex court had asked all states to take stern measures to stop violence in the name of cow protection, including appointment of senior police officers as nodal officers in every district within a week and acting promptly to check the cow vigilantes from behaving like they were "law unto themselves".
A contempt petition was earlier filed by Tushar Gandhi, alleging that Rajasthan, Haryana and Uttar Pradesh governments had not complied with the top court's September 6 order.
The court had then sought response from the three states.