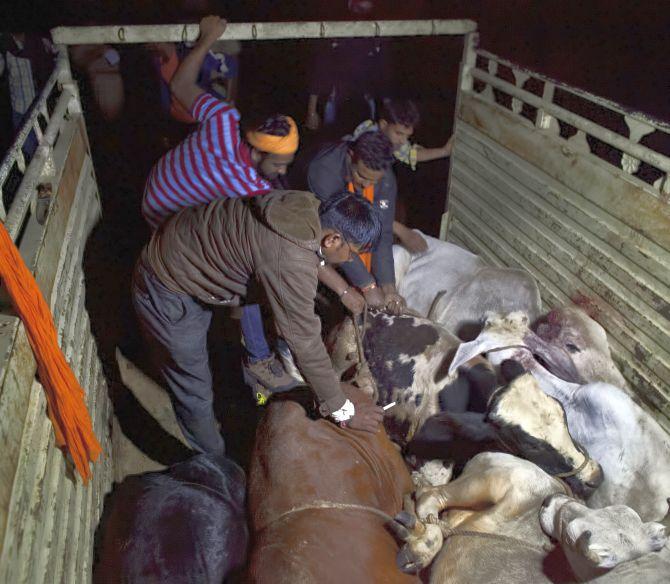 Police has detained two men in connection with the killing of 35-year-old Umar Khan by alleged cow vigilantes in Rajasthan's Alwar district.
According to Alwar Superintendent of Police (SP) Rahul Prakash, two people have been detained and are being interrogated.
Reacting to the incident, Rajasthan Home Minister Gulab Chand Kataria said on Monday that the state did not have enough manpower everywhere to 'control' every situation well in time.
Khan's body was found near railway tracks in Ramgarh on November 11, with his family members and activists alleging that he was shot dead by cow vigilantes when he was ferrying cattle in a vehicle the day before.
The incident, which came months after the lynching of dairy farmer Pehlu Khan by suspected cow vigilantes in Alwar, has triggered an outrage.
Kataria said that strict action would be taken against the culprits irrespective of their religion.
"We don't have so much manpower to enable us to control every situation at all places, even before an incident is reported," he said.
A first information report has been registered at the Govindgarh police station under Indian Penal Code sections 302 (murder), 307 (attempt to murder) and 201 (causing disappearance of evidence) against unidentified people, based on a complaint lodged by Khan's family members.
Khan's family members have demanded immediate arrest of the accused and compensation.
They met Director General of Police Ajit Singh with their demands.
They refused consent to autopsy of the body till the culprits were arrested.
The was brought to the SMS Hospital in Jaipur from Alwar on Sunday.
Hospital superintendent D S Meena said that a medical board was constituted for the post-mortem, but it could not be conducted as the family members did not turn up.
Social worker Maulana Haneef claimed yesterday that Khan, along with two others, was ferrying cattle in a vehicle when unidentified men opened fire at them. Khan died on the spot, while another suffered bullet injuries.
In April this year, 55-year-old Pehlu Khan was lynched by suspected cow vigilantes in Alwar while he was transporting cattle.
The incident comes ahead of Chief Minister Vasundhara Raje's scheduled visit to Alwar. Raje has been visiting various areas under the Alwar Lok Sabha constituency which is gearing up for a bypoll, necessitated following the death of sitting BJP MP Mahant Chandnath.