Gurmeet Ram Rahim, head of the Dera Sacha Sauda sect, is no regular godman.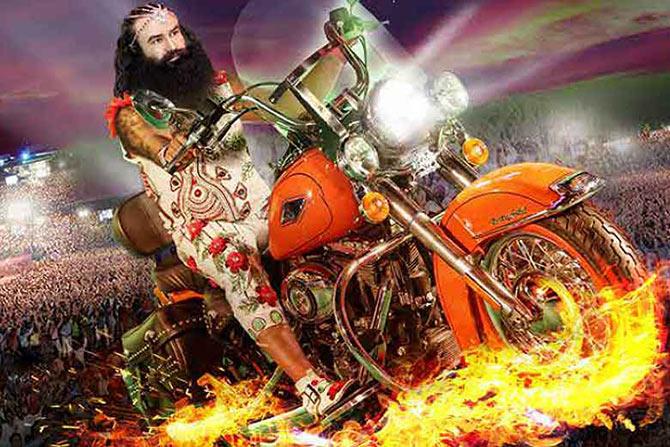 He glides through the air dressed in pink robes in his promotional videos and in real life is known to ride powerful, souped up bikes to congregations, the persona as flashy as the vehicle itself.
But today was judgement day for Gurmeet Ram Rahim, head of the Dera Sacha Sauda sect, who was convicted in a rape case and left two states in a state of siege.
Some of that tinsel aura may fade for the 'baba of bling', who is not the regular godman in saffron but a curious amalgam of reel and real defying easy description.
His Twitter profile describes him as "Spiritual Saint/Philanthropist/Versatile Singer/Allrounder Sportsperson/Film Director/Actor/Art Director/Music Director/Writer/Lyricist/Autobiographer/DOP".
For his followers, who gathered in the thousands in Panchkula ahead of the verdict in the case of rape and criminal intimidation, their leader is all this and more. The bejewelled head of the Sirsa headquartered sect, who turned 50 this Independence Day, holds sway over millions in Haryana, Punjab and Rajasthan.
Many trains bound for Punjab and Haryana were cancelled, schools and colleges shut and thousands of security personnel deployed to ensure that no trouble breaks out. But it did with 'premis', as his followers are known, going on a rampage.
As curiosity grew about the man at the centre of the frenzied storm, Gurmeet, who drove to Panchkula in a large convoy of scores of vehicles, put out a tweet appealing for peace and saying he would go to court even though he had a backache.
It was the familiar blurring of lines between the larger than life image of the man of bling who would be god and superstar.
For somebody who commands so much attention, the personal details are just a few.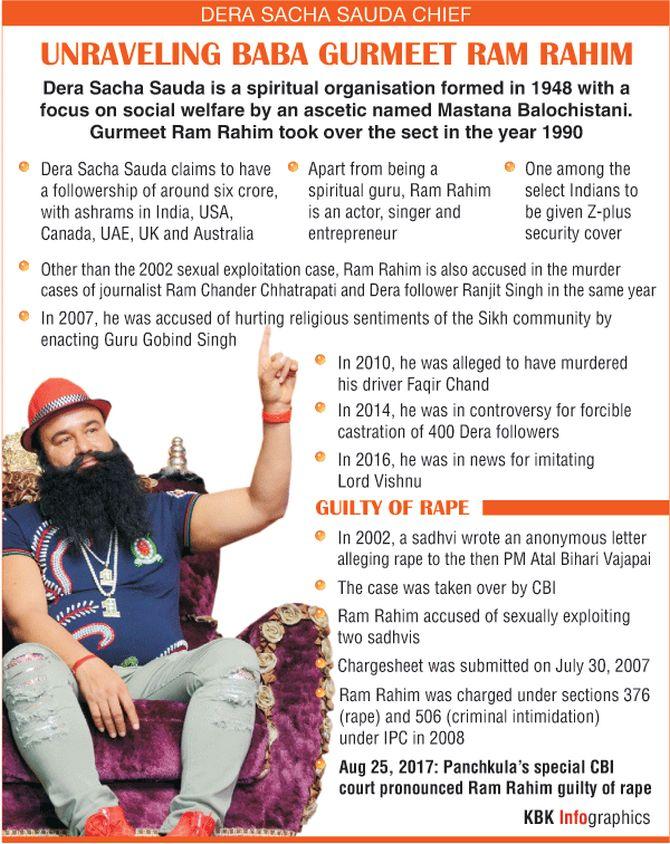 He was born in Sri Gurusar Modia village in Rajasthan's Sri Ganganagar district on August 15, 1967, to a landlord father. An only child, Gurmeet helped his father in the farm in his early years.
Gurmeet, it is said, was always spiritual. When he was seven, he was picked out by Shah Satnam Singh, then head of the Dera Sacha Sauda in Sirsa, who anointed him Ram Rahim.
Sixteen years later, in 1990, Satnam Singh invited his disciples from all over the country for a grand satsang where 23-year-old Gurmeet Ram Rahim was chosen as his successor.
The Dera chief, who completed his high school, is married to Harjeet Kaur. They have two daughters, Charanpreet and Amanpreet, both of whom are married, and a son Jasmeet. He also adopted a girl.
The story also goes that he loved butter and ghee and took part in several sport activities.
Combining entrepreneurial skills with his job as the spiritual head of the sect, he launched the 'MSG' range of "swadeshi and organic" products about two years ago.
The business is looked after by the Dera chief's children, who live inside the Dera in Sirsa.
MSG is perhaps a reference to his first film "Messenger of God", which he made in 2014 when he underwent an image makeover. Since then, he has made three more films, playing the lead role in each and performing ostentatious, dangerous stunts, quite like any other tinsel town superhero.
Dera functionaries claim their chief has contributed in motivating millions of people to perform selfless services while the sect itself has devoted itself to humanitarian tasks such as blood donation and organ donation drives and educating the poor.
In 2002, Gurmeet's tryst with controversy and criminal charges began. He has since been named in cases dealing with rape, murder and forced castration.
In 2002, a case of sexual exploitation case was registered against him. This followed anonymous letters alleging that the sect head had sexually exploited two 'sadhvis'.
He was held guilty in this case by the CBI court in Panchkula.
Other cases in which his name figures include a murder case dating back to 2002 and the forced castration of some sadhus in 2014.
In 2007, he earned the ire of Sikhs who accused him of replicating the attire of 10th Sikh Guru, Guru Gobind Singh, following which Punjab remained on the boil for several days.
Notwithstanding the notoriety, Gurmeet has reigned over the sprawling Dera Sacha Sauda headquarters in Sirsa, where he dons glittering costumes and holds satsangs.
Thousands of 'premis' gather from various parts to hear the message delivered by the 'Pita ji' (Dera head).
The sprawling Sirsa Dera, spread over nearly 1,000 acres, is a township on its own, with schools, sports village, hospital, cinema hall and the like.
It is common to find politicians from across the spectrum flocking to the Dera premises. However, no politician comes on record and Gurmeet himself maintains that as sect head he does not indulge in any political activity. He leaves it to the sect's political wing to decide on whom to support.
© Copyright 2023 PTI. All rights reserved. Republication or redistribution of PTI content, including by framing or similar means, is expressly prohibited without the prior written consent.