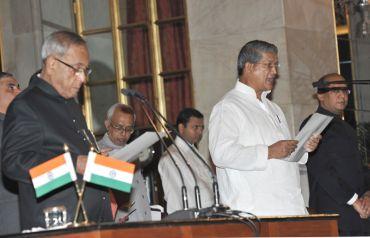 Union Minister Harish Rawat, who was sulking after having been denied chief ministership of Uttarakhand, on Sunday had all smiles as celebrations broke out at his residence in New Delhi over his elevation to the Cabinet rank.
Rawat, who had a trail of sweet and sour relationship with the party high-ups, was today made a cabinet minister in-charge of water resources replacing Pawan Bansal, who got the key railway ministry.
Rawat was earlier minister of state for agriculture, food processing industries and parliamentary affairs.
A Lok Sabha member from Haridwar, he was an undeclared face of the Congress for the Assembly elections in the state in March this year and a near rebellion had broken out when Vijay Bahuguna was made Chief Minister ignoring his claim.
After a couple of tense days, a compromise was arrived among the warring factions.
Rawat had represented the state in Rajya Sabha from 2002 to 2008. He had joined politics as a trade unionist and then represented Youth Congress.
He entered the Lok Sabha in 1980 by defeating BJP veteran Murli Manohar Joshi from Almora seat, which he represented for three consecutive terms. He vacated the seat in 2009 when it became reserved after delimitation.
Rawat also headed Congress Seva Dal before being elected as Uttarakhand Pradesh Congress Committee chief in 2000.
In Dehradun, Rawat's supporters danced to the beating of drums and distributed sweets as the news of his elevation to the Cabinet rank reached the Pradesh Congress office.
There were reports of similar celebrations by his supporters in Haridwar too.
Uttarakhand Chief Minister Vijay Bahuguna and PCC chief Yashpal Arya congratulated Rawat. "Uttarakhand in particular stands to gain immensely from his promotion to cabinet rank," Bahuguna said.
Image: President Pranab Mukherjee administering the oath as Cabinet minister to Harish Rawat at Rashtrapati Bhavan on Sunday
Photograph Courtesy: PIB