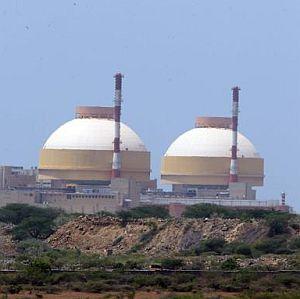 The government on Sunday maintained that it will ensure all safety aspects of the Kudankulam Nuclear Power Project are fully taken care of before it is commissioned.
"It is our duty to ensure all the safety (aspects), we will do that with regard to the Nuclear plant," Minister of State in the Prime Minister's Office, V Narayanasamy told mediapersons.
The Minister said Atomic Regulatory Board officials were still inspecting the plant. A meeting of the Board officials was held on December 3, and order for commencing power generation would be issued before this month-end, he said.
"There is no confusion or delay in commencing generation of power. We are only ensuring all the safety aspects (in KNPP)," the minister asserted.
When asked about the plans of the Peoples Movement Against Nuclear energy, spearheading the stir against the KNPP IN Tirunelveli, to lay siege to it from the sea, he alleged that foreign forces were behind those who opposed KNPP, and they would be defeated.
With the commissioning of the first unit expected by this month-end, there were reports of anti-nuclear activists planning to lay siege to the facility tomorrow to press for scrapping the project.
Narayanasamy said Union ministers from Tamil Nadu were pressing the government to give the entire quantum of power generated from the first 1,000 MW unit of KNPP to the state, though as per the schedule it should get 465 MW. The rest would be divided among Karnataka, Puducherry and Kerala.
The extra power of 1,600 MW given back to the Central grid by various states could not be brought to Tamil Nadu due to grid congestion, he said.
The minister expressed confidence that the KNPP's second unit would be commissioned before the next three months.   He claimed that the Centre had already given Rs 300 crore to the state for taking up development projects for benefit of people in Kudankulam and Rs 200 crore would be given shortly.
The government was opting for nuclear and solar energy as they were safe, he said.
The Regulatory Board had granted permission to load fuel in the first unit on August 10 after the Nuclear Power Corporation of India Limited complied with its conditions.
Commissioning of the first unit of the Indo-Russian project was originally scheduled for December last year but has been delayed due to protests.