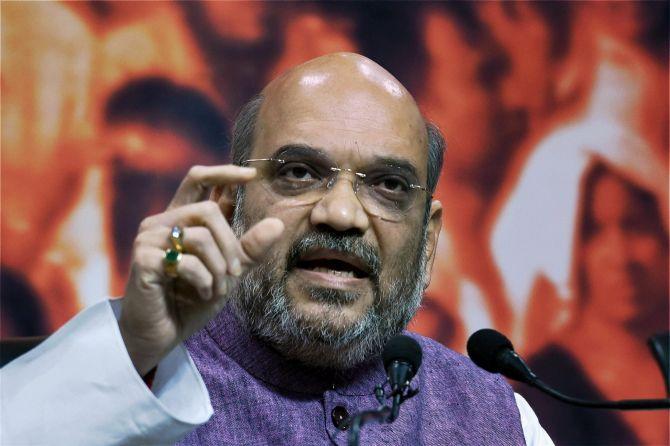 IMAGE: Bharatiya Janata Party Chief Amit Shah during a press conference at party headquarters in New Delhi on Friday. Photograph: Subhav Shukla/PTI
Presenting a report card of two years of the Modi government, Bharatiya Janata Party chief Amit Shah on Friday credited the party for giving a "decisive" government and said in the remaining three years of its tenure all the promises made in the run up to 2014 Lok Sabha polls will be fulfilled.
At a press conference in New Delhi, Shah talked at length about the government's initiatives to create employment and give a boost to economy in the last two years.
He also lambasted the Congress, alleging "scams, scandals and policy paralysis" ruled the roost during ten years of the United Progressive Alliance rule.
Accusing the UPA government of having left behind an "empty treasury and policy paralysis," Shah said the bureaucracy was "dejected" and there was pessimism among people.
Claiming that the Modi government has generated hope in all these sections within two years of coming to power, Shah expressed confidence that the government will take the country to new heights after laying the foundation stone in this period.
"We have given a decisive government to the country. This is a government, which takes decisions. Such a decisive government led by Modi ji has been formed in the country after a long time.
"The Modi government has assumed power after the ten years rule of the UPA in which scams and scandals ruled the roost. After two years in government, even our opponents have not been able to level any allegation of corruption on us," Shah said.
Referring to the first National Democratic Alliance government headed by Atal Bihari Vajpayee, he said that the development journey of the nation that started then seemed to have come to halt during the UPA regimes.
"The UPA I and the UPA II had brought the situation to such a situation that it appeared that the development journey of the nation has come to a halt," he said.
Shah said that the Modi government worked to bring an all-inclusive development by adopting a balanced approach.
The BJP chief also cited the government's decision to bring the National Eligibility and Entrance Test ordinance that allowed states to have their own medical entrance examinations, as an example of government's focus on quick disposal of people's problems.
Shah also appealed to all parties to support legislations and measures related to the "agenda of nation's development".
He was asked how the BJP expects the All India Anna Dravida Munnetra Kazhagam to support the government on goods and service tax bill after campaigning aggressively against Chief Minister J Jayalalithaa in Tamil Nadu.
"We have fulfilled the responsibility that was given to us to bring the nation out of policy paralysis and bring prosperity.
"We are confident that after fulfilling all the promises made to people in next three years, we will get a fresh mandate. We have worked much in two years," he said.
Responding to questions about Congress' criticism of the functioning of the Modi government and former Union Minister Kapil Sibal daring the minsters for a debate, Shah said tersely the BJP cannot get into a debate with him. "What do you expect from the Congress. Will they praise us," he said.
"This is the only government, which has taken one new initiative everyday," Shah said listing achievements of government in different sectors like manufacturing, power, software import as well as the steps taken for the welfare of farmers and youths.
Facing sustained Congress attack on the issue of employment generation, the BJP chief referred to schemes like Stand Up, Start Up and Skill India, saying it was for the first time when any government worked with a belief that employment generation is not only about jobs.
Shah also claimed that price rise has "by and large" been under control, while foreign currency reserves have gone up.
The BJP chief also said that the issue of one rank one pension, which was pending for last many years, was resolved during this government.
Meanwhile, Shah steered clear of controversial issues like Ram temple and uniform civil code as he indicated that the party will fight the Uttar Pradesh assembly polls on development plank which, he insisted, has been the Modi government's agenda.
With Rashtriya Swayamsevak Sangh affiliates Vishwa Hindu Parishad and Bajrang Dal raising the pitch for Ram temple construction, an issue which fuelled the party's rise in 90s, Shah asserted that such outfits cannot be equated with the BJP.
He also wondered on what basis the opposition was accusing his party of causing communal polarisation ahead of the state polls early next year.
Shah chose to stick to the narrative of the central government's "pro-poor" and "pro-farmers" work as he faced a volley of questions on BJP's stand on controversial but core party issues in the light of crucial UP polls.
"These are part of our manifesto and if you read it you will find that it is mentioned there as to how we intend to work on them," he said.
The BJP has maintained in its manifesto that it supports Ram temple construction but it should be done either with consensus or as per judicial decision.
"Bajrang Dal is not the BJP," he shot back when asked on its and VHP's pitch for temple construction.
"You should only listen to the government," he said on issues raised by these outfits, seen as BJP's sister organisations.
To a question about armed training being given by Bajrang Dal to its activists in parts of UP, he said the state government should take action if there is anything unlawful.
Shah, who is credited with the party's landslide win in the state during the Lok Sabha polls, was tight-lipped over whether it will name a chief ministerial candidate in the state, saying the issue is yet to be discussed in the party.
Home Minister Rajnath Singh had on Thursday appealed to people at a rally in Saharanpur to end BJP's 14-year-long exile and Shah was asked "who will be its Ram?"
"Ram will be decided. Public will decide it," the BJP chief said.
He also asserted that BJP will form the next government in the state, adding that he saw Samajwadi Party as the main challenger.
Shah had said on Wednesday that the Samajwadi Party government's "corruption and misgovernance" will be his party's main issues besides development.
© Copyright 2021 PTI. All rights reserved. Republication or redistribution of PTI content, including by framing or similar means, is expressly prohibited without the prior written consent.