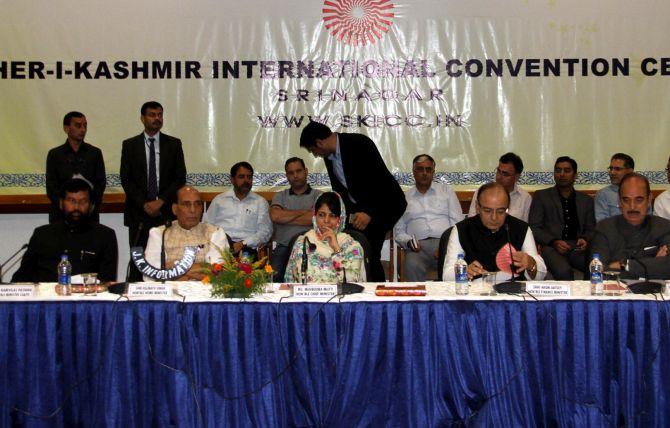 An all-party delegation led by Home Minister Rajnath Singh on Sunday held talks with Chief Minister Mehbooba Mufti in Srinagar as it began a two-day visit to Jammu and Kashmir during which it is expected to interact with a cross-section of people with a view to restore peace in the strife-hit Valley.
The meeting, chaired by Singh at Sher-I-Kashmir International Conference Centre soon after the 26-member delegation arrived, discussed the security situation in the Valley.
It also took stock of those injured in the violent protests since the killing of Hizbul militant Burhan Wani on July 8.
Initially, the delegation was proposed to be of 29 Members of Parliament, but only 26 MPs have come.
Cutting across party lines, leaders said that they were hopeful of finding a solution for restoration of peace in the Valley which has been in the grip of violent protests that left 71 persons dead and scores of others injured.
State Education Minister and government spokesperson Naeem Akhtar said it was necessary for all stakeholders to join the dialogue process.
"How long can this continue? It has to end someday," he said.
When asked about Mehbooba not mentioning talks "within the ambit of Constitution" in her letter to the separatist leaders on Saturday evening, he said every party comes to the negotiating table with their stated position.
"It depends on how we carry forward the dialogue and ideas to find resolution to the issue," he said.
Mehbooba had written a letter to separatists leaders in her capacity as Peoples Democratic Party chief inviting them to engage with the delegation.
Akhtar refused to reply to a question whether there were any back channel talks with Hurriyat Conference.
The state government has placed chairman of moderate Hurriyat Conference faction Mirwaiz Umer Farooq under arrest at Chashme Shahi sub-jail, Jammu Kashmir Liberation Front chief Yaseen Malik at BSF camp in Humama while hardliner Syed Ali Shah Geelani continues to be under house arrest.
A delegation of National Conference led by former Chief Minister Omar Abdullah is also likely to meet the MPs.
The all-party delegation is on a two-day visit to the state during which it is expected to interact with a cross section of people. However, the Valley based trade organisations have refused to meet the politicians.
"We intend to talk to individuals and groups who want peace and normalcy in Kashmir Valley," Singh said before the departure of the delegation.
Senior Congress leader and former Jammu and Kashmir Chief Minister Ghulam Nabi Azad said that the delegation was ready to hear "everyone".
The visit "will be beneficial for Kashmir and for the country," he said, adding everyone wants peace in the state.
Azad said it will be an opportunity for the parties and Kashmiri people to interact.
All India Majlis-e-Ittehadul Muslimeen leader Asaduddin Owaisi said he would like to meet separatists as well as the injured who were undergoing treatment in various hospitals.
Communist Party of India-Marxist general secretary Sitaram Yechury, another member of the team, said the all-party delegation should have gone two months ago "but let's hope that even now, we can make a difference". Yechury also expressed desire to meet the separatists and the injured.
Lok Janshakti Party chief and Union Minister Ram Vilas Paswan said that the MPs are going with an open mind and want to interact with anyone who wants to talk within the framework of the Indian Constitution. "We are ready to talk," he said.
Congress leader Mallikarjun Kharge said all parties were cooperating with the government and their sole aim was restoration of normalcy in the state.
"We will try our best to bring back normalcy. We are cooperating with the government. It is the responsibility of the government to deal with the situation very intelligently.
"All parties are cooperating for that. So we hope that it will be resolved," he said.
Image: Twenty-six MPs from various political parties were part of the all-party delegation that reached Srinagar on Sunday in attempts to resolve the Kashmir crisis. Photograph: Umar Ganie/Rediff.com
© Copyright 2023 PTI. All rights reserved. Republication or redistribution of PTI content, including by framing or similar means, is expressly prohibited without the prior written consent.