Fifteen years after she was gangraped and most of her family killed in the 2002 riots in Gujarat, Bilkis Bano is ready for a new beginning and is hoping to see her elder daughter become a lawyer.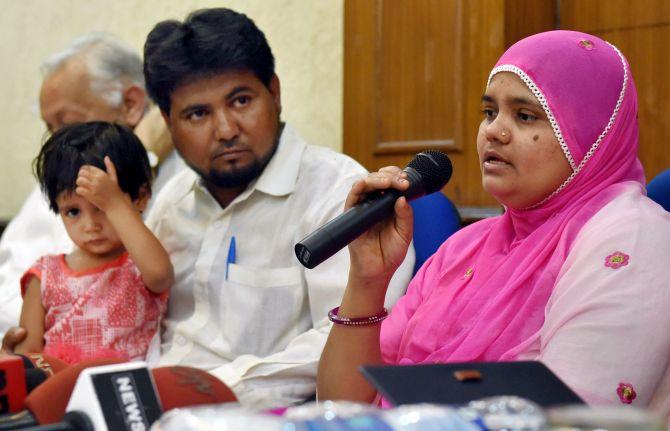 "All I wanted was justice, not revenge", she said at a press conference in New Delhi on Monday, four days after a landmark Bombay high court judgment upheld the life imprisonment of 12 people involved in gangraping her and set aside the acquittal of seven people, including policemen and doctors.
Bilkis, who was pregnant at the time and lost her three-and-a-half-year-old daughter in the riots, is hoping that the judgment will help her lead a "good life".
As she sat flanked by her husband and youngest daughter, all of two years old, Bilkis seemed to have found a sense of closure.
"The Bombay high court judgment was very good and I am very happy, so is my family. I am all the more happy as the policemen and doctors involved in covering up the incident have also been convicted," she said.
"My elder daughter wants to be a lawyer. I will make sure all my children study and chart a new path," Bilkis added.
Her husband, Yakub, who is a milk trader, broke down when asked about the family's ordeal and threats from the convicts who were frequently out on parole.
"I want women across the board to get justice like Bilkis," he said.
"Cow protection laws and vigilante groups also threaten my family cattle business. I will have to find new avenues of income," Yakub said.
The family had to change their home 25 times in 15 years as the convicts on parole would threaten Bilkis, said rights activist Farah Naqvi amongst those who helped organise the press conference.
Bilkis and Yakub have five children. Bilkis was five months pregnant with her elder daughter when she was gangraped.
"In all these years, I have not received any support from the government in my struggle for justice," Bilkis said.
Vijay Hiremath, who represented Bilkis in the appeal in the high court, said he "could not sleep for five days" when he first read her testimony.
"It is perhaps for the first time that police officers have been convicted in a case pertaining to sexual violence," he said, reading out excerpts of the judgment.
"The judgment observed that the omissions on the part of the police accused are so grave and so obvious that their malafides and intentions are very apparent," he said, adding thay they are yet to decide on whether to approach the Supreme Court for enhanced sentence against the guilty police officers.
On March 3, 2002, Bilkis' family was attacked by a group of persons at Randhikpur village in Dahod district when they were fleeing to escape a marauding mob during the post-Godhra riots.
IMAGE: Gujarat riots' victim Bilkis Bano with her husband Rakub Rasool addresses a press conference in New Delhi. Photograph: Atul Yadav/PTI Photo
© Copyright 2023 PTI. All rights reserved. Republication or redistribution of PTI content, including by framing or similar means, is expressly prohibited without the prior written consent.