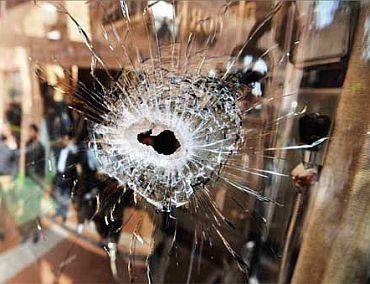 The Al-Ummah operatives who were arrested on Saturday after a major encounter on the Andhra Pradesh border on Saturday are providing the police with a mine of information regarding their plans. Vicky Nanjappa reports.
While the major trio has been arrested, the police say that they are looking out for some more people, who were also key members of this group which was aiming to target Hindu leaders in southern India.
The Al-Ummah, which was born in Tamil Nadu in the aftermath of the Babri Masjid demolition had sworn at that time to target Hindu leaders who they perceived were a threat to Islam. The organisation was responsible for the Coimbatore blasts and also had planned a major operation concerning Bharatiya Janata Party patriarch L K Advani.
The Al-Ummah operatives who were behind the murder of a BJP leader at Salem have said that they had many more persons on the hit-list. A diary which was found on them has the names of those BJP leaders who were on their hit-list.
According to the diary and their confessions they had on their list senior BJP leaders: Rama Gopalan, Pon Radhakrishnan and L Ganesan. The trio also told the police that they were behind the killings of S Ramesh and S Vellaiyappan -- BJP leaders from Tamil Nadu.
During their questioning, the operatives revealed that that their primary target was the BJP and their plan was to ensure that the party does not grow in this part of the country. The operatives -- Bilal Malik Panna Islamil and Fakruddin said that at first they had planned major strikes, but over the years decided to focus on individual assassinations.
The Bengaluru police is planning on questioning them, and will seek answers on the blast outside the BJP office in the city on April 17. The preliminary investigations had revealed that it Al-Ummah was behind the blast. It is now coming to light that the trio was behind the attack. Malik had provided the arms and ammunition to Ismail and Fakruddin who carried out the attack, investigations have revealed.
The police have also found vital leads into the 2011 incident in Alampatti in which they had planned on targeting Advani. Fakruddin told the police that they had prepared a pipe bomb and timed it to go off as his passed. The plan was however foiled.
The police say that these persons worked individually most of the time and did not rely on many other groups to carry out their attacks. They had also focused their resources mainly on assassinations.
The trio has revealed that after the BJP came to power in south India for the first time, they decided to raise the bar and begin a wave of assassinations."The BJP influence in the south is not something we would tolerate and hence we decided to fight," Malik told the police.