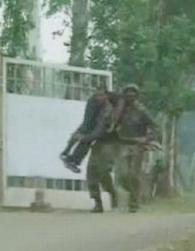 Militant group Al-Badr has claimed responsibility for the twin suicide attack that rocked Samba sector in Jammu region on Thursday.
Dressed in army fatigues, militants stormed a police station and then an army camp in Jammu region, killing ten people including an army officer, after they sneaked in from across the border.
Al Badr militants, though based in Pakistan, enjoy close links with certain elements in south India.
Security agencies, while probing the militant group a few years ago, had found that some of its members enjoyed major political patronage in Kerala.
Al-Badr, also known as Al-Badr Mujahideen, was created in 1971 by the Inter Services Intelligence.
The group allegedly played a role in the massacre of Bengali intellectuals during the Bangladesh freedom movement in 1971.
After carrying out the massive operation -- it is believed that nearly 10,000 Bangladeshis were slaughtered by the group -- it went underground for a decade.
In recent years, the Intelligence Bureau had picked up two operatives of the outfit, Mohammad Fahad and Mohammad Ali Hussain, from Mysore.
Fahad told interrogators that he came to Kerala to meet a relative, but his passport had expired and he was yet to get a new one. He had traveled to Mysore as he wanted to extend his stay.
The IB arrested the duo after receiving a tip-off about them staying on in India despite not possessing valid documents.
Investigations later revealed that the duo was planning to carry out a terror strike in Karnataka after they were assured of protection by certain politicians in Kerala.
Fahad and Hussain wanted to target the Vidhan Soudha, the seat of the state assembly, in Bangalore. Police also found satellite phones, laptops, improvised explosive devices, pistols, cell phones, detonators, AK-47 rifles and a digital camera in their possession.
While Fahad is a post graduate in Analytical Chemistry, Hussain is a school drop out.
During the investigation, Praveen Sood, the then police commissioner of Mysore, had said that police were trying to find out the names of politicians who had helped these terrorists.
The probe had pointed towards the Peoples Democratic Party in Kerala headed by controversial leader Abdul Nasar Madani.
The duo's political contacts had even helped them take over a steel factory in Kozhikode and use it as a front to assemble explosives.
Touhfeen Akmal Hashmi, a divisional commander with Al Badr, was chosen by the ISI to assist terrorists who carried out the 7/11 serial train blasts in Mumbai.
Over the next one year, the ISI directed its modules in Kerala to recruit young men and send them to Pakistan to receive training. The ultimate aim was to 'wage a war' in Jammu and Kashmir.
Two youths from Kerala were sent for fidayeen training; they were killed while launching an attack in the Valley.
Fahad, a resident of Karachi, was first sent to Jammu and Kashmir, where he stayed for four years before heading to Kozhikode in Kerala.
He reportedly killed as many as 20 Indian soldiers during his stint in Kashmir.
Pleased with his activities, the ISI decided to entrust him with the task of building a module in south of India.
The Intelligence Bureau believes that after each major operation, Al-Badr goes off the radar for a long period, and it is likely to do the same this time too.
Image: A video grab shows army personnel carrying their colleague on shoulders who was injured in a terror attack on Samba cantonment on Thursday