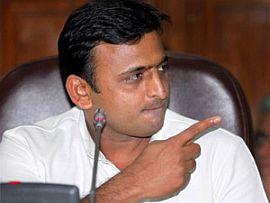 Amid controversy over Centre's move to give priority to Hindi on official social media, Uttar Pradesh Chief Minister Akhilesh Yadav on Friday said the Samajwadi Party government and the party had always been in favour of Hindi and Urdu.
"I presented my budget in Hindi itself. But when we are in favour of Hindi you get angry and when we favour Urdu then also you are against us," Akhilesh said in a lighter vein when asked about the ongoing controversy over the use of Hindi.
The row over Centre's move to promote Hindi in social media and official work snowballed on Friday with Tamil Nadu Chief Minister J Jayalalitha and two of Bharatiya Janata Party's allies opposing it strongly while a union minister said a "wrong propaganda" was being made on the issue.
"Reality is that to promote Urdu and its culture a movie was made. Under the policy of the state government, some subsidy was to be given to the makers, but so much negative publicity was done that they never turned up to take the subsidy," Akhilesh said.
Akhilesh said that SP was always in favour that both Hindi and Urdu are promoted. "Besides these two languages, SP has always been in favour of all other Indian languages," he said.
"If you have heard the speech of Netaji (Mulayam Singh Yadav) in the Lok Sabha, he had said that while so much respect was being given to Hindi, if members speak in other Indian languages it will only enhance the honour of the house," Akhilesh said