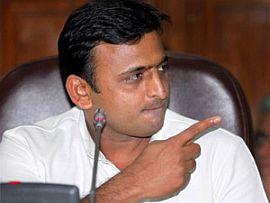 Uttar Pradesh Chief Minister Akhilesh Yadav on Sunday took a potshot at Bharatiya Janata Party for raising the issue of 'love jihad'(affairs involving Muslim boys and Hindu girls) by suggesting that its MP Hema Malini had no qualms about acting in movies which showed such relationships.
"You hear the song of BJP MP's film Dharmatma. Will it promote love or not," Yadav told reporters while replying to queries on issue of 'love jihad' raised by BJP in its Uttar Pradesh executive meet.
The CM was referring to actor-turned politician and Mathura MP Hema Malini's 1975 movie which also starred Feroz Khan.
'Love jihad' is a term coined by some Hindu groups for alleged efforts to get non-Muslim girls to convert to Islam through love affairs. "Youth should be vigilant against love jihad. Why is the government lenient on those who indulge in such practices? Have
they (youth of the minority community) got license to convert the girls of majority community," UP BJP chief Laxmikant Bajpai said on Saturday addressing the two-day meeting of state party executive committee in Vrindavan.
Yadav also released a book 1857 ki kranti penned by journalist Pawan Kumar Singh on Sunday.