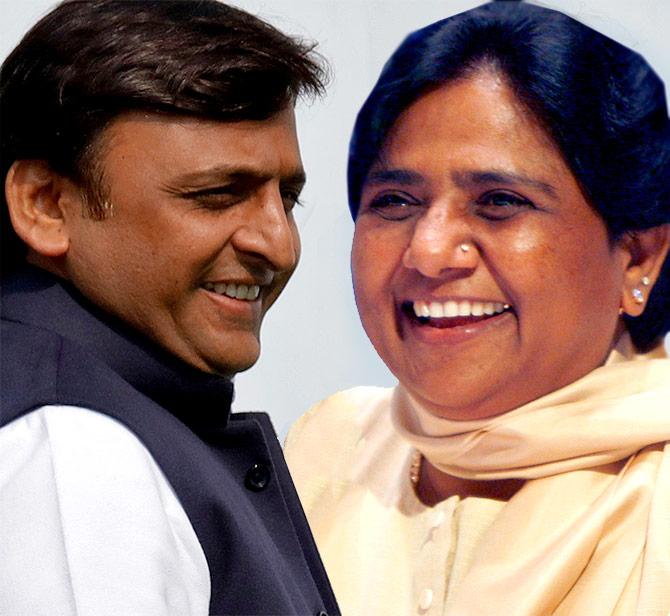 Samajwadi Party chief Akhilesh Yadav said on Monday his party was willing to sacrifice some seats for once bitter arch-rival, the Bahujan Samaj Party, as it was prepared to walk the extra mile to defeat the Bharatiya Janata Party.
"If there is a need to sacrifice a few seats for the BSP, we Samajwadis will not hesitate. We have to ensure the BJP is defeated," Yadav said in Mainpuri.
He asserted the understanding between the SP and the BSP will continue till 2019.
The former Uttar Pradesh chief minister's statement ahead of the Lok Sabha elections next year assumes significance as the understanding between the two regional outfits has ensured BJP's defeat in four bypolls in the state this year.
Among the seats the BJP lost was the Lok Sabha seat of Gorakhpur, considered to be Chief Minister Yogi Adityanath bastion. The ruling saffron party was also humbled in Phulpur and Kairana Lok Sabha seats besides the Noorpur Assembly seat recently due to coming together of the opposition parties including the Rashtriya Lok Dal.
BSP chief Mayawati has made clear her party would be a part of the Opposition alliance only if given a respectable number of seats in the pre-election pact.
Yadav, meanwhile, also claimed the SP-BSP bonhomie was troubling the BJP.
"Now the BJP's worry is that how both (SP and BSP) will accomplish this task (of defeating the ruling party). They will see how our workers stand by them (BSP) and support them to demolish the BJP," he said at an event late evening yesterday while expressing confidence the understanding between the two parties would last till 2019.
Reacting to the SP chief's statement, the BJP said even if Yadav surrenders (before the BSP), he will not succeed.
'Even if Akhilesh Yadav surrenders before anyone and makes utmost efforts, he will face hardships in UP,' BJP spokesperson Manish Shukla said in a statement.
He said the BJP will once again emerge victorious in the 2019 Lok Sabha elections under Prime Minister Narendra Modi.
UP Congress spokesperson Ashok Singh said it was too early to comment.
Earlier, senior UP minister Swami Prasad Maurya had remarked that the friendship between SP and BSP will not last long and end before the 2019 Lok Sabha elections.
"The SP and the BSP will perish fighting each other. This electoral understanding is not based on issues and any electoral understanding sans any issue is not going to last long," he had told reporters in Ballia on Sunday.
However, senior BSP leader Uma Shankar Singh today hit out at Maurya claiming his statement reflected 'frustration over the BJP's continuous defeats in bye-elections in the state'.
Reacting to Maurya's comments, SP spokesperson Sunil Singh Sajan said the remarks smacked of nervousness in the saffron party.