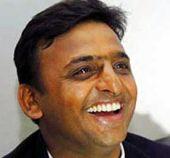 Uttar Pradesh Chief Minister Akhilesh Yadav is finally off to United States to narrate the success story of the 2013 Kumbh Mela at the HarvardUniversityBusinessSchool on April 26.
Leading a nine-member team, Akhilesh left for New Delhi on Tuesday. He will take Wednesday's flight to London from where he will proceed straight to Boston after a day's halt.
The 55-day long festival concluded on the banks of the Ganga on March 10.
This follows an invitation from the world's leading business school, from where a delegation of scholars had specially flown in to Allahabad to get a first hand account of what all goes behind organising the 12-yearly mega event, that is regarded as the largest human gathering in the world.
The 50-member Harvard team included scholars and students from HarvardUniversity coordinated by its South Asia Institute and its Global Health Institute. The multi-disciplinary team from Harvard had studied various aspects of Kumbh 2013 including urbanism, business and public health and religion at the mela.
Diana Eck, professor of comparative religion and India studies at Harvard, led a group of graduate and undergraduate researchers who studied the ritual use of flowers and their environmental impact, the diversity of sacred trees, pollution and the effects of dams on the Ganga, the relationship between faith and science and the 'green' Kumbh movement.
The Harvard study at the Kumbh was done by a scholar's team led by Rahul Mehrotra, who chairs the Department of Urban Planning and Design at Harvard. The health surveillance study by Harvard students has also documented various measures taken by the state government to control outbreak of diseases and maintain high standards of sanitation at the Kumbh.
Significantly, the invitation stood despite the stampede that left as many as 36 dead on February 10, after the Mauni Amavasya, that drew unprecedented crowd, estimated at about three crores.
The entourage includes State Urban Development Minister Azam Khan, who had resigned on moral grounds as head of he Mela Organising Committee shortly after the stampede.
Protocol Minister Abhishek Misra is also accompanying the chief minister together with secretary to CM Amod Kumar, urban development secretary S P Singh and mela officer Mani Prasad Misra.
Allahabad divisional commissioner Devesh Chaturvedi and Inspector General of Allahabad zonal police Alok Sharma are also a part of the entourage. Those who were responsible for laying the basic infrastructure of the mela city have, however, been excluded.