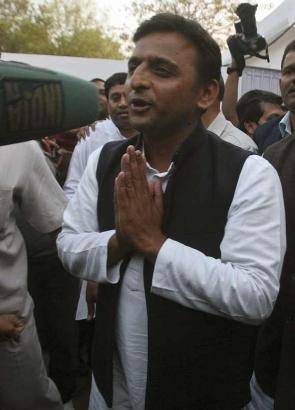 Uttar Pradesh Chief Minister Akhilesh Yadav made a surprise visit to Congress President Sonia Gandhi's Lok Sabha constituency of Rae Bareli on Wednesday where, among other things, he ordered action against two district officials for laxity in service.
The CM reached Raain village in the Bachrawan development block and inspected ongoing development works in the area. And, what with the recent mid-day meal tragedy in Bihar's Chhapra district, Akhilesh also went down to a local school where he tasted the food being served to students as part of the scheme.
The CM reached the village, which lies about 50 km from Lucknow, unannounced, taking local officials by surprise. He inspected the construction of houses under the Lohia Awas Yojna and also took feedback from the locals about the same, official sources said.
Upon a demand from the locals, he gave them an assurance about making Bachrawan a 'Nagar Palika'.
At the village primary school, Akhilesh asked the children about their studies and the midday meal being served them. Later, he also tasted the food. He took stock of the implementation of welfare schemes directly from the locals.
Meanwhile, according to a release, the CM directed that district supply officer Vidyaram Ahirwar be suspended and gave transfer orders to basic education officer Gyanendra Pratap Singh Bhadauria for "laxity in discharge of duty.