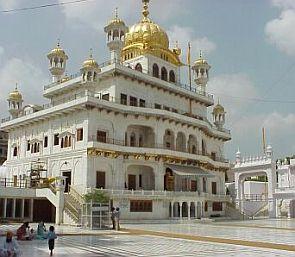 The Akal Takht has described as 'inhuman and harsh' a British Court's sentencing of three Sikh men and a woman for carrying out a revenge attack on Lt Gen (retired) K S Brar in London.
Jathedar Akal Takht, the highest Sikh temporal seat, Gyani Gurbachan Singh said he has directed the Shriomani Gurdwara Pharbandhak Committee (SGPC) president Avtar Singh Makkar to take up the matter with the British High Commission in Delhi, claiming that the court's decision has hurt the sentiments of members of the Sikh community.

Three Sikh men and a woman, convicted of carrying out a revenge attack on Lt Gen Brar for his role as commander of Operation Blue Star in 1984 were on Tuesday sentenced by a British court to between 10 and 14 years in prison.
Brar had sustained severe injuries in the knife attack on the streets of central London in September last year by the gang described in court as Sikh extremists.
Mandeep Singh Sandhu (34) and Dilbag Singh (37) were sentenced to 14 years in jail for the offence, while Harjit Kaur (39) was given 11 years and Barjinder Singh Sangha (33) was sent to 10 years and six months in jail.
He said various Sikh outfits have approached Akal Takht expressing 'shock and displeasure' over the decision as the sentence awarded by the court was "harsh and inhuman."

"The sentence handed out to the guilty is inhuman and harsh. All Sikh outfits are surprised and shocked over the verdict, which is one-sided. There is immense feeling in Sikh community that the verdict should be reviewed," Singh said.

Taking strong exception to the ruling, radical Sikh group Dal Khalsa spokesperson Kanwarpal Singh said, "In the name of justice, injustice has been done to them. Their case should not have been viewed as a criminal act as they tried to avenge the wrong of Gen Brar. The British Government must relook on their sentence sympathetically."