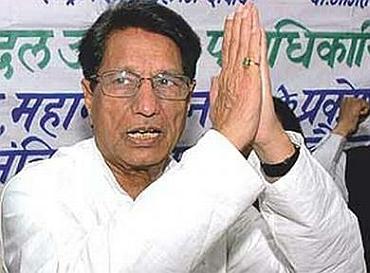 A day after the Centre cracked the whip by disconnecting power and water supplies to the official accommodation of former union minister Ajit Singh, the Rashtriya Lok Dal leader on Sunday said he will vacate the accommodation by 25th of this month.
"I have lived here for 36 years. My father (late Chaudhary Charan Singh) moved here in 1978 and thereafter there are so many things I have to sort out before moving. August 11, I got the notice and I move out on 24-25 September. I do not think it's unreasonable," he said.
Singh also said that he has found a house and signed a lease as well. "I found the house and we have signed the lease also. So, when they came on 9th, I informed them that I have signed the lease...... But now it's 'Pitru Paksh'. So as soon as it's over in about two weeks or so, I will go," the former civil aviation minister said.
The government had on Saturday disconnected power and water supplies to the official accommodations here of former union ministers and ex-MPs including Ajit Singh, Jitendra Singh and Mohammed Azharuddin who refused to vacate the premises.
Last week, an eviction team, along with police, had faced stiff resistance at Ajit Singh's Tughlaq Road residence when they had gone to take possession of the house.